Gloria Oliver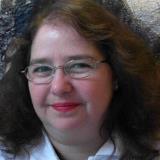 Gloria Oliver lives in Texas making sure to stay away from rolling tumbleweeds, freak storms, and bowing to the wishes of her feline and canine masters.
She is the author of In the Service of Samurai, Vassal of El, Cross-eyed Dragon Troubles, Willing Sacrifice, and The Price of Mercy, all fantasy and YA fantasy novels.
She's also a member in good standing of EPIC and BroadUniverse, but hasn't yet made it onto the list for Cat Slaves R Us.
External Links
Iambik Audiobooks by Gloria Oliver