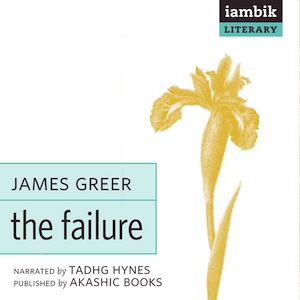 The Failure
Narrator:




Publisher:




Proof-listener:

Elizabeth Medeiros



Length:

3:50:45



File Size:

~ 200 MB



Share:

Sample:
Buy from Audible:
Description
California Book Award-winner Greer presents a hilarious and immaculately written story set in L.A., exploring the inevitability of failure.
The Failure is a picaresque novel set in Los Angeles about two guys who conceive and badly execute a plan to rob a Korean check-cashing store in order to finance the prototype for an impossibly ridiculous Internet application.
The main character, Guy Forget, is a twenty-something drifter with brains, good looks, and absolutely no ambition except to get rich without having to work. His best friend, Billy, is a professional dog walker who ties the dogs to the rear bumper of his run-down car and drives very slowly. Along the way we meet, among others, Guy's Midwestern parents, his theoretical-physicist brother, his girlfriend Violet McKnight, and his secret nemesis, Sven Transvoort, who hates Guy with unusual passion for reasons that are not immediately clear.
While the story of The Failure is fairly straightforward, the manner of its telling is anything but; it begins at the end, and proceeds in similarly nonlinear fashion to a conclusion that will surprise either nobody or everybody, depending on whos been paying attention. Using elements of pop culture, tech jargon, and noirish satire, the book attempts to answer the question not enough people ask themselves on a regular basis: Am I a failure?
Cover image adapted from an illustration by Pieter Withroos. Public domain.
First Line
Guy Forget—careening across Larkin Heights in a stolen Mini Cooper—suffused with bloodlust and baring a grin full of teeth, failed to hear the polyphonic belling of his cell phone.

Reviews
"James Greer's The Failure is such an unqualified success, both in conception and execution, that I have grave doubts he actually wrote it." --Steven Soderbergh
"Greer has done it again: a big-city, techno-jargon-filled thrill-ride with slick medium-brow drop references to our (once-shared) mythological hometown. What could be more poignant?" --Robert Pollard, rock musician
"James Greer, one of the nimblest and most multilayered American fiction writers, has, with his latest novel The Failure, pulled off a sublime and shivery-smooth literary hat-trick-cum-emotional-gotcha. I defy anyone to come up with an equation to explain how this book's first impression as a ridiculously clever, funny crime story can gradually disclose a metanovel built from far more encyclopedic scratch only to reveal upon its conclusion a central, overriding thought so heartfelt literally it trembles your lower lip. This is one stunning piece of work." --Dennis Cooper, author of Ugly Man
More Metadata!
Iambik Audio ISBN:
9781926673271
Iambik Audio Publication Date:
Apr 13, 2011
Print ISBN:
9781933354972
Print Publication Date:
Mar 1, 2010
Audio Distribution Rights:
Worldwide
Keywords/tags:
bank robbery
,
bar
,
check cashing
,
computers
,
fiasco
,
karaoke
,
mini Cooper
,
moped
,
mountain lion
,
pandemonium