Leaves are falling and the evenings are getting chilly, at least in this part of the world. The children are back in school and their grownups are back from escapist trips, plucking the sand from their memories and wiping sunscreen from their daydreams.
But don't despair the shortening days!  Long, cool nights are best spent with a warm drink and an even warmer story, delivered straight to your ears.  Our new releases include an intergalactic adventure for young adults, an absurdist glimpse into a world ruled by  madness (not so unlike our own) , and two classic pearls from the public domain.  Enjoy: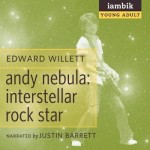 Andy Nebula: Interstellar Rock Star by Edward Willett. Narrated by Justin S. Barrett.
"The action in Andy Nebula moves along at a cracking pace and the characters are well-drawn…Andy Nebula is fast and furious enough to keep even reluctant readers turning the pages, and young teen fans of fantasy and science fiction will not be disappointed." – John Wilson, Quill & Quire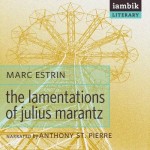 The Lamentations of Julius Marantz by Marc Estrin. Narrated by Anthony St. Pierre.  Published in print by Unbridled Books.
"Clubfooted, 60-something Cal Tech grad Julius Marantz is pursued by both the Central Intelligence Corporation and a corporate coalition known as GEKO in this Kafkaesque near-future mashup from Estrin (Insect Dreams: The Half-Life of Gregor Samsa). Julius's crimes include having perfected a mechanism known as the Doodad, which, among other things, polarizes the water molecules in living beings and is used to create rapture-like experiences among the multitudes of India. " – Publisher's Weekly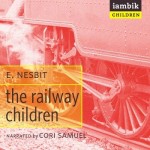 The Railway Children by E. Nesbit. Narrated by Cori Samuel.
In this classic children's book by E. Nesbit, three children are suddenly uprooted from their happy suburban life to move to the country with their mother. Their new house, "Three Chimneys", is near a railway line, and Roberta (Bobbie), Peter and Phyllis (Phil), find amusement in watching the trains and waving to the passengers. They become friendly with Albert Perks, the station porter, and with the Old Gentleman who regularly takes the 9:15 down train. The children get involved in all kinds of good deeds, while their mother is busy writing children books.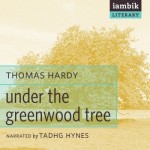 Under the Greenwood Tree by Thomas Hardy. Narrated by Tadhg Hynes.
Under the Greenwood Tree or The Mellstock Quire: A Rural Painting of the Dutch School is a novel by Thomas Hardy, published anonymously in 1872. It was Hardy's second published novel, the last to be printed without his name, and the first of his great series of Wessex novels.
Audiobook reviewers, book bloggers, and Iambik ambassadors: as always, email Miette for review copies of any title.