David Lewis Richardson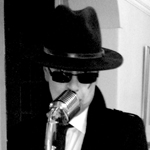 David has narrated a number of Documentaries for The BBC & ITV as well as working as a Commercials & Drama Director. He started narrating audio-books for LibriVox two years ago. He hasn't always narrated his own work – in fact Dame Judy Dench narrated his first documentary. She made it sound so easy, he'd thought he'd have a go himself – and discovered it wasn't that easy!
His interests include sword fencing and riding a motorbike. He once recorded Wordsworth's 'I wandered Lonely as a Cloud', at 60 mph whilst riding his motorbike through the English Lake District – no daffodils were harmed during the production. He collects old fountain pens and loves the smell of old book shops and wonders if audiobooks couldn't have a scent added.
Iambik Audiobooks Narrated by David Lewis Richardson