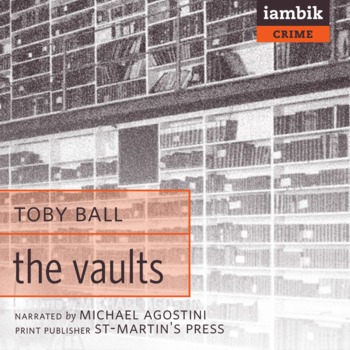 The Vaults
Narrator:




Publisher:




Proof-listener:

Nadine Eckert-Boulet



Length:

9:04:56



File Size:

~ 475 MB



Share:

Sample:
Buy from Audible:
Description
In a dystopian 1930s America, a chilling series of events leads three men down a path to uncover their city's darkest secret.
At the height of the most corrupt administration in the City's history, a mysterious duplicate file is discovered deep within the Vaults—a cavernous hall containing all of the municipal criminal justice records of the last seventy years. From here, the story follows: Arthur Puskis, the Vault's sole, hermit-like archivist with an almost mystical faith in a system to which he has devoted his life; Frank Frings, a high-profile investigative journalist with a self-medicating reefer habit; and Ethan Poole, a socialist private eye with a penchant for blackmail.
All three men will undertake their own investigations into the dark past and uncertain future of the City—calling into question whether their most basic beliefs can be maintained in a climate of overwhelming corruption and conspiracy.
Cover background image from Boston Public Library
First Line
The Department's paper supplier for years had been Ribisi & Porfiro.

Reviews
Narrated by Michael Agostini for Iambik Audiobooks, the recording takes on a fittingly dark, Gotham-esque tone. [...] Agostini brings the isolation of this character to life in his personification.
"Set in an unnamed U.S. big city in 1935, Ball's impressive thriller debut opens with a vivid description of "the Vaults," where archivist Arthur Puskis has worked for almost three decades. He's the only person who understands the system of filing criminal cases in the vast underground storage facility in the subbasement of city hall. When Puskis, amid the drudgery of his lonely job, discovers two files with the same alphanumeric identifier but with different contents, the implications threaten the foundations of the massively corrupt municipal government headed by Mayor Red Henry. In particular, the find raises questions about why a number of convicted killers were never actually incarcerated. The archivist's dogged legwork coincides with a series of bombings aimed at close allies of the mayor, and the plot steamrolls to a dramatic conclusion. Ball's "City," in which despair and graft are almost palpable, is an imaginative achievement on a par with Loren Estleman's Gas City." - Publishers Weekly (starred review) - Read More
Cleverly couching contemporary themes—big business's corrupt intervention in government, the threat to individual identity, and the distortion of information during technological "updates"—in spooky, lush historical trappings, this convincing novel will heighten readers' senses, engage their minds, and satisfy their craving for exciting stories. —Neil Hollands, Williamsburg Regional Lib., VA - Library Journal (Starred review)
More Metadata!
Iambik Audio ISBN:
9781926673554
Iambik Audio Publication Date:
Jul 15, 2011
Print ISBN:
9780312580735
Print Publication Date:
Sep 4, 2010
Audio Distribution Rights:
Worldwide
Keywords/tags:
1930s
,
conspiracy
,
Crime
,
dystopian
,
Great Depression
,
intrigue
,
mystery
,
noir
,
subterfuge