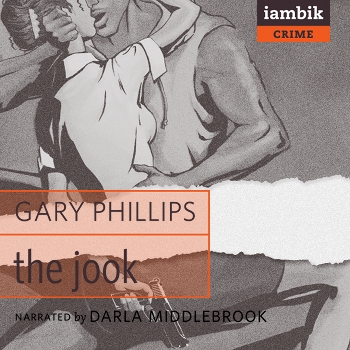 The Jook
Narrator:




Publisher:




Proof-listener:

Nadine Eckert-Boulet



Length:

7:36:09



File Size:

~ 380 MB



Share:

Sample:
Buy from Audible:
Description
Zelmont Raines has slid a long way since his ability to jook, to out maneuver his opponents on the field, made him a Super Bowl winning wide receiver, earning him lucrative endorsement deals and more than his share of female attention. But Zee hasn't always been good at saying no, so a series of missteps involving drugs, a paternity suit or two, legal entanglements, shaky investments and recurring injuries have virtually sidelined his career.
That is until Los Angeles gets a new pro franchise, the Barons, and Zelmont has one last chance at the big time he dearly misses. Just as it seems he might be getting back in the flow, he's enraptured by Wilma Wells, the leggy and brainy lawyer for the team–who has a ruthless game plan all her own. And it's Zelmont who might get jooked.
First Line
It was hot as an Alabama outhouse when I got off the plane from Barcelona.

Reviews
"Gary Phillips is known by crime fiction aficionados as a master the form, and reading The Jook it's easy to see why. The dialogue crackles, the tone's pitch-perfect, and the prose rolls along with the kind of effortless cool that only comes with monstrous effort, not to mention an equal portion of talent. Phillips also has a delightful sense of play, an all-too-rare commodity in the genre. When introduced to the shady proprietor of a specialized rehab services agency named Burroughs, any fan of William S. Burroughs – junky, pederast and beat writer – are going to have trouble not swallowing their own tongue in delight. Especially when Phillips describes "his boat end of a face yellow colored from whatever narcotics he was currently popping." Phillips also captures the spirit of Los Angeles in a way that very few but Raymond Chandler and James Ellroy have even attempted. Which is no surprise. At a time when the majority of crime fiction authors seem to be former television writers, Phillips has learned the city from the ground up, working with gangs and pounding the streets as a community activist and union organizer. It's a career path that has served him well as a crime writer. Even set in the glossy world of high-priced athletes, the Los Angeles that comes through is as destroyed and degenerate as Raines' football career, making The Jook a down-and-dirty crime fiction marvel." -- In Denver Times
"If you like your crime novels full of greed, gritty, realistic and with lots of anatomically correct sex then this is the book for you. The Jook is an excellent and enthralling standalone novel from one of the best in the genre of noir there is no honour, no respect, no love but plenty of money. It contains so many elements that will please readers. From the profanity loaded street talk, to the end of the novel which is certainly reminiscent of a Jim Thompson novel and the homage that has without doubt been played to black-exploitation films, The Jook is more of a violent crime novel than anything else. While funny at times as well as being violent the reader is led on a ride that makes for entertaining reading. In no way shape or form is this a politically correct novel, but who cares? It was not meant to be. It is a crime novel that not only makes you think twice about becoming an athlete, but shows what happens when pro-football and venal ambition collide in the end zone." -- Ayo Anotade, Shots Magazine
"Zelmont Raines scored the winning touchdown in the Super Bowl and was an All-Pro receiver with a string of endorsement deals. Unfortunately, he also likes to smoke crack, quench his thirst with top-shelf brandy, and entertain the fine ladies who hang out with the stars. Three stints in drug rehab, a paternity suit (guilty), a hip injury, and some misguided investments in gangsta rap have Raines thinking the good times are over. Then he meets his match--sexually and amorally--in Wilma Wells, the lawyer for the Los Angeles Barons. She's scheming to rip off the mob-connected owner of the Barons and enlists the aid of the cash-hungry and always-horny Raines. She leads him into a netherworld where the between-the-lines violence of professional football pales in the face of automatic weapons and double crosses. Phillips, author of the acclaimed Ivan Monk series, takes elements of Jim Thompson (the ending), black-exploitation flicks (the profanity-fueled dialogue), and Penthouse magazine (the sex is anatomically correct) to create an over-the-top violent caper in which there is no honor, no respect, no love, and plenty of money. Anyone who liked George Pelecanos' King Suckerman is going to love this even-grittier take on many of the same themes." -- Wes Lukowsky