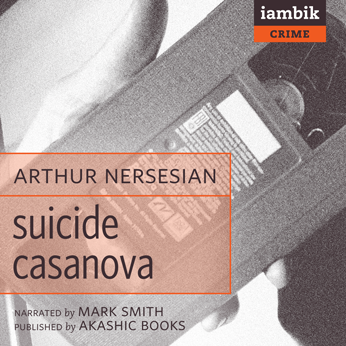 Suicide Casanova
Narrator:




Publisher:




Proof-listener:

Mary McCullough



Length:

11:14:04



File Size:

~ 310 MB



Share:

Sample:
Buy from Audible:
Description
What do Gary Condit, Woody Allen, and O.J. Simpson have in common with Leslie Cauldwell, protagonist of Nersesian's latest offering? They are Suicide Casanovas. What compels powerful men in the prime of their professional lives to risk so much? Following the commercial success of his first three novels (Manhattan Loverboy, The Fuck-Up, and dogrun,), Nersesian's new novel is a psychosexual thriller, a dramatic departure from his youthful black comedies: Humbert Humbert without the pedophile penchant, Hannibal Lechter without the appetitite.
Corporate attorney Leslie Cauldwell is middle-aged, handsome, and rich, but has only a few swipes left on his mental Metrocard. During a rough sex session, he garrotes his beloved wife; now he's an officially designated "sex offender," off on a bender, looking for love in all the wrong places. Twenty years earlier, when his office was high above the pornographic purgatory of Times Square, Leslie became involved with the adult-film star, Sky Pacifica. She needed a refuge, and he was ripe for the using. Following a brief fling, each went their own way. Two decades later, in 2001, Leslie is still working in Times Square — recently sanitized with its ESPN Zone and MTV window — and fraught with guilt about his "accident" with his wife.
Like Jay Gatsby pursuing an erotic American dream, Leslie, with the help of a private detective, hunts down Sky Pacifica, his latter-day Daisy. Across a landscape of S&M mistresses and porn producers, from L.A. of the '80s to New York of the new millennium, we see a modern-day tale of love and loss, innocence and corruption, crime and redemption.
Cover photo by John Manoogian.
First Line
Except for the fact that it terminates life, death is such a little thing.

Reviews
"...Sleek, funny, and sometimes sickening...A paean to Times Square's squalid hardcore past." -- Memphis Flyer, Nov. 21-27, 2002
"Nersesian has written a tight, gripping erotic thriller..." -- Philadelphia City Paper, October 10-17, 2002
"The book has a nice rhythm, fast-forwarding and rewinding between the past and present." -- The Other Paper (Columbus, OH), Nov. 24, 2002
More Metadata!
Iambik Audio ISBN:
9781926673226
Iambik Audio Publication Date:
Mar 9, 2011
Print ISBN:
9781888451306
Print Publication Date:
Jul 1, 2002
Audio Distribution Rights:
Worldwide
Keywords/tags:
blackmail
,
bondage
,
Crime
,
domination
,
NYC
,
obsession
,
pop-psychology
,
pornography
,
stalker