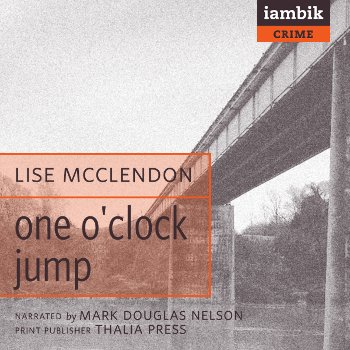 One O'Clock Jump
Narrator:




Publisher:




Proof-listener:

Susan Claybrook



Length:

9:33:46



File Size:

~ 500 MB



Share:

Sample:
Buy from Audible:
Description
Halfway around the world, war has begun, but for Dorie Lennox, a newly-minted private eye on her first tail, danger is more immediate. The dark streets of Kansas City of 1939 offer swing music, fast cars, gangsters, and the chance to forget about the Depression and her own murky past. But first she must conquer her fears and save a woman on a bridge high above the muddy Missouri. Dorie is thrown into a quickly unraveling scam that offers salvation to few — and misery to plenty — in the high stakes world of machine politics and desperation deals.
With vivid prose and sharp dialogue, the world of Dorie Lennox comes alive, behind the wheel of her Packard in jazz-age Kansas City. The landscape of America and the homefront of World War II are evoked in a thoughtful mystery that lingers for the force of characters and keen sharpness of a slice of history seen through the perceptive, compassionate eyes of Dorie Lennox.
Cover background image from shog9 – flickr CC-BY-SA
First Line
Inside the plate-glass window of the Hot Cha Cha Club, the bar girl was taking off her apron.

Reviews
Segueing neatly from the ski slopes of contemporary Wyoming (1999's Nordic Nights) to the Kansas City of Count Basie and FDR's fireside chats, McClendon debuts an excellent historical series, with evocative period dialogue and a story line full of surprises. Iris Jackson is a woman with a secret, but not for long. PI Dorie Lennox, hired to tail the meatpacker's "bar girl," thinks her first solo job is over when Iris jumps into the Missouri River, but this is just the beginning. [...] With little to go on, Dorie follows what leads she has straight into a web of false identities, cover-ups and fraud. -- Publishers Weekly
A convincing re-creation of time, place, and a hard-nosed, emotionally scarred heroine; for all collections. -- Library Journal
McClendon plays the World War II swing era for all its worth (Count Basie makes a cameo), and the switchblade-packing Lennox displays plenty of grit in that pants-wearing, Rosie the Riveter kind of way. Sundry subplots, involving Lennox's troubled past and romantic misadventures, as well as the melancholy ramblings of her mustard-gassed employer, prove more distracting than character building, but overall, this is a solidly put together, reasonably evocative period piece. -- Booklist