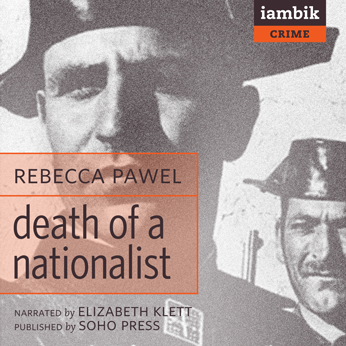 Death of a Nationalist
Narrator:




Publisher:




Proof-listener:

Elizabeth Medeiros



Length:

7:55:00



File Size:

~ 220 MB



Share:

Sample:
Buy from Audible:
Description
Madrid 1939. Carlos Tejada Alonso y Lean is a Sergeant in the Guardia Civil, a rank rare for a man not yet thirty, but Tejada is an unusual recruit. The bitter civil war between the Nationalists and the Republicans has interrupted his legal studies in Salamanca. Second son of a conservative Southern family of landowners, he is an enthusiast for the Catholic Franquista cause, a dedicated, and now triumphant, Nationalist. This war has drawn international attention. In a dress rehearsal for World War II, fascists support the Nationalists, while communists have come to the aid of the Republicans. Atrocities have devastated both sides. It is at this moment, when the Republicans have surrendered, and the Guardia Civil has begun to impose order in the ruins of Madrid, that Tejada finds the body of his best friend, a hero of the siege of Toledo, shot to death on a street named Amor de Dios. Naturally, a Red is suspected. And it is easy for Tejada to assume that the woman caught kneeling over the body is the killer. But when his doubts are aroused, he cannot help seeking justice.
First Line
Maria Alejandra was on her way home from school when she saw a man dressed as a guardia civil creep out of the bomb-blackened building that had been Señor Merello's bakery before the shell hit it.

Reviews
This convoluted story is set in 1939 Madrid at the end of the Spanish Civil War as Franco takes the reins of government. In this bloody period of Spain's history, the Nationalists hunt Republicans as loyalty and honor vie with violence and the drive for power. The action begins with Sergeant Tejada Alonzo y Leon of the Guardia Civil shooting an unknown woman who is kneeling next to a dead Guardia as she retrieves her niece's school notebook. Elizabeth Klett narrates with a soft, uninflected American accent. She pronounces Spanish names and places in a seemingly flawless accent. -- M.B.K., AudioFile Magazine - Read More
The immediate aftermath of the Spanish Civil War provides the bleak setting for Pawel's stirring first novel. Madrid in 1939 is filled with bomb craters, desecrated churches and nearly abandoned streets, while black markets are just about the only markets with anything to sell. The hatreds and atrocities shared by the Nationalists (supported by the fascists) and the Republicans (supported by the Communists) still simmer and erupt in sporadic violence. The Guardia Civil has the responsibility to maintain authority-and their enthusiasm and ruthlessness for enforcing order terrorizes the citizens. The intertwined fates of Sergeant Tejada Alonzo y Leon of the Guardia Civil and that of Gonzalo Llorente, a wounded Republican in hiding, are handled with unusual skill and subtlety. When Tejada arrives at the scene where a murdered comrade lies, he leaps to a conclusion about the killer's identity. He must follow a tortuous path to find the real killer and, ultimately, redemption. Gonzalo has lost his love as well as his hope for any kind of future. His one aim is for a small measure of vengeance before he dies. Pawel is unsparing in her depiction of the casual brutalities spawned by the war, but also offers evidence of the power of little civilities and kindnesses in a novel that easily transcends the formulaic crime story. -- Publishers Weekly
"Pawel anchors a tense and exciting story with a terrific and complex plot."—Detroit Free Press