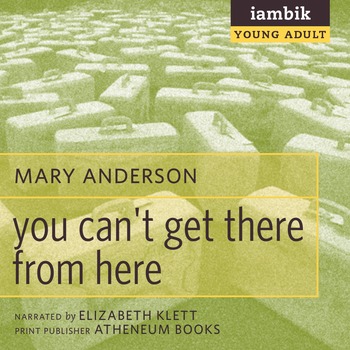 You Can't Get There from Here
Narrator:




Publisher:




Proof-listener:

Betsie Bush



Length:

4:53:34



File Size:

~ 260 MB



Share:

Sample:
Buy from Audible:
Description
Reggie had always wanted to be an actress. And long ago she had decided that acting school would do more for her than college so her discovery of Adam Bentley's Acting School came at just the perfect time. She had graduated from high school and for several reasons her home, as she had known it, had disappeared.
Reggie idolized Adam and found his theories of and training for "organic acting" fascinating. She felt she was gaining a new awareness of herself and her craft through her lessons. Finally, she moved into one of the spartan rooms reserved for resident students in the surprisingly lush brownstone that housed Adam, his school and the theater where the plays he wrote were presented. Only resident students could act in those plays and Reggie soon found herself with a part. She was thrilled. How marvelous not only to be learning but to be able to use her new abilities before and audience.
However, her role as Vicki was hard to play. It confused her and her perceptions of her relationships with others, including her family and the other students at the school. Only her relationship with Adam, her teacher, seemed stable. What was wrong with her?
It took her brother Jamie, to spot Reggie's problem and to realize how truly serious it was.

Cover background image: masochismtango
First Line
Because of Adam.

Reviews
The pace of this narrative accelerates with the pace of Reggie's tailspin as she becomes more immersed in the character Adam has created for her and she begins to have difficulty distinguishing herself from her alter ego.  Reggie's experience is similar to those caught up in a cult. This will hold and involve readers. -- Booklist

The school and its director, similar to a cult and its leader, are well delineated. Although Reggie is normally stable and sensible, it is clear that insecurity and fatigue have left her vulnerable to a clever manipulator.  This story reflects present day problems. -- Horn Book

This story is different from most stories about acting and shows a darker and unglamorous side of the theater.  It is very frightening but a well written story for older readers. -- Ohio Young Adult Review

This very personalized novel provides good reading. The audience will enjoy and become really involved with this book.-- Tacoma Public Schools


More Metadata!
Iambik Audio ISBN:
9781926673608
Iambik Audio Publication Date:
08/03/11
Print ISBN:
9780689309038
Print Publication Date:
03/01/1982
Audio Distribution Rights:
worldwide
Keywords/tags:
acting
,
adolescence
,
alienation
,
breakdown
,
crisis
,
divorce
,
family
,
New York City
,
psychodrama
,
teenagers
,
theater