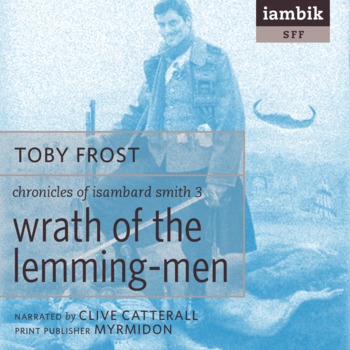 Wrath of the Lemming-Men
Narrator:




Publisher:




Proof-listener:

Elizabeth Medeiros



Length:

8:11:11



File Size:

~ 430 MB



Share:

Sample:
Buy from Audible:
Description
Wrath of the Lemming-Men is the third book of the Chronicles of Isambard Smith.
From the depths of Space a new foe rises to do battle with mankind: the British Space Empire is threatened by the lemming-people of Yull, ruthless enemies who attack without mercy, fear or any concept of self preservation. At the call of their war god, the Yull have turned on the Empire, hell bent on conquest and destruction in their rush towards the cliffs of destiny.
When the Yullian army is forced to retreat at the battle of the River Tam, the disgraced Colonel Vock swears revenge on the clan of Suruk the Slayer, Isambard Smith's homicidal alien friend. Now Smith and his crew must defend the Empire and civilise the stuffing out of a horde of bloodthirsty lemming-men- which would be easy were it not for a sinister robotics company, a Ghast general with a fondness for genetic engineering and an ancient brotherhood of Morris Dancers- who may yet hold the key to victory…
First Line
By dawn it was clear to General Young that General Wikwot's drive to capture Varanor had ground to a halt.

Reviews
Toby Frost managed to write not only a laugh-out-loud space romp, but one that holds up well enough if you take all the humour away and start looking at the back bone of the stories - the world he has created. It just works so well and because of the fun I had with the first two novels Wrath of the Lemming Men was pretty much my most anticipated book of the year and the sooner I could get it through the letterbox the better. Not only did it meet my expectations, but once again Toby is expanding more and more from the base he set up in Space Captain Smith. - Walker of Worlds -
Read more...