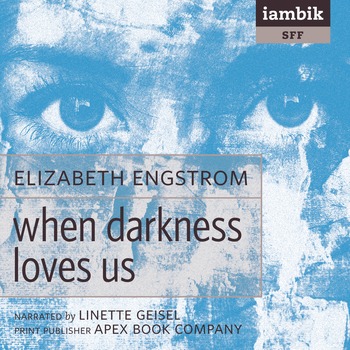 When Darkness Loves Us
Narrator:




Publisher:




Proof-listener:

Mary McCullough



Length:

6:46:41



File Size:

~ 375 MB



Share:

Sample:
Buy from Audible:
Description
Sally Ann is a bright and bubbling farm girl, still caught in the thrill of a brand-new husband and a shining future ahead. When a careless exploration leaves her trapped underground, she learns to live again in the absence of everything she once knew. Even driven by love and light, Sally Ann finds the deepest darkness within herself in When Darkness Loves Us.
Old Martha Mannes has been a part of Morgan, Illinois since her birth. The whole town knows her as the dim-witted woman who was born without a nose, but Martha's mind wasn't always a blank slate. Unlocking the monster buried deep in her memories may bring back the sparkling child she once was…or it may send those around her crashing down into the nightmares of a little girl gone wrong.
This two-novella collection twists together the beauty and horror underlying the seeming simplicity of small town life.
First Line
Sally Ann Hixson, full with the blush of spring and gleeful playfulness as only sixteen-year-olds know it, hid around the side of the huge tree at the edge of the woods as the great tractor drove past her.

More Metadata!
Iambik Audio ISBN:
9781926673936
Iambik Audio Publication Date:
Dec 8, 2011
Print ISBN:
9780982159668
Print Publication Date:
Sep 1, 2009
Audio Distribution Rights:
Worldwide
Keywords/tags:
beauty
,
chilling
,
dark
,
healer
,
horror
,
inner strength
,
monster
,
moral deterioration
,
small town
,
traps