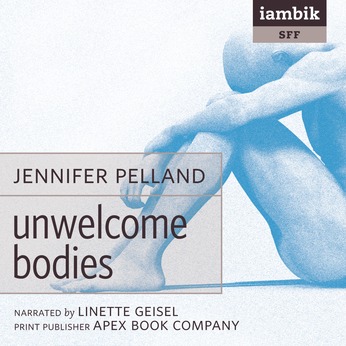 Unwelcome Bodies
Narrator:




Publisher:




Proof-listener:

Darla Middlebrook



Length:

7:20:45



File Size:

~ 385 MB



Share:

Sample:
Buy from Audible:
Description
Jennifer Pelland's new brilliant collection of short stories. Pain. Pleasure. The sensation of touch…we feel everything through our skin, that delicate membrane separating "I" from "other," protecting the very essence of self. Until it breaks. Or changes. Or burns. What would you do if you were the one called on to save humanity, and the price you had to pay was becoming something other than human? Or if healing your body meant losing the only person you've ever loved? Wander through worlds where a woman craves even a poisonous touch…a man's deformities become a society's fashion…genetic regeneration keeps the fires of Hell away…and painted lovers risk everything to break the boundaries of their caste system down. Separate your mind from your flesh and come in. Welcome…
First Line
Kathleen Murphy gripped her can of Mace tightly as she rode the Red Line to work, hands sweating inside the latex of her surgical gloves.

Reviews
"Her already-glowing reputation may still be just a hint of promising light on the horizon of those who like their fantastic fiction smart, imaginative, and driven by the mysteries of the human spirit, but each new story as brilliant as 'Brushstrokes' and 'The Last Stand of the Elephant Man' brings her inevitable future even closer. Trust me on this: Jennifer Pelland's star has only just begun to rise." - Adam-Troy Castro, Hugo, Nebula, and Stoker-nominated author of Emissaries from the Dead.
"Pelland handles difficult topics with assured storytelling chops, bringing us to the brink of tears, fear, desire, and beyond. Worth your time AND money AND sincere attention." – Steven Gould, Hugo and Nebula-nominated author of Jumper.
More Metadata!
Iambik Audio ISBN:
9781926673677
Iambik Audio Publication Date:
Aug 17, 2011
Print ISBN:
9780978867683
Print Publication Date:
Feb 28, 2008
Audio Distribution Rights:
Worldwide
Keywords/tags:
activism
,
captivity
,
deformity
,
distress
,
doomsday
,
fetish
,
futuristic
,
HIV
,
mortality
,
vengeance