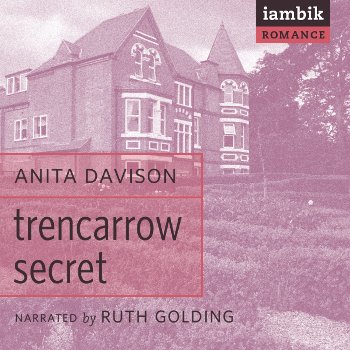 Trencarrow Secret
Narrator:




Publisher:




Proof-listener:

Susan Claybrook



Length:

12:22:05



File Size:

~ 650 MB



Share:

Sample:
Buy from Audible:
Description
Isabel Hart is afraid of two things, the maze at Trencarrow where she got lost as a young child, and the lake where her brother David saved her from drowning in a boating accident. With her twenty-first birthday and the announcement of her engagement imminent, Isabel decides it is time for her to face her demons and ventures into the maze. There she sees something which will alter her perceptions of herself and her family forever.
The house party gathers and as more secrets are revealed, Isabel doubts she has chosen the right man, although her future fiancé has more vested in this marriage than Isabel realizes and has no intention of letting her go easily.
Will Isabel be able to put her preconceptions of marriage behind her and take charge of her own life, or is she destined to be controlled by others and a past she cannot break away from?
Cover background image: Ted and Jen – Flckr CC-BY
First Line
The long case clock in the entrance hall worked its way to chime the hour with a clunk and mechanical whine.

Reviews
"With rich prose and compelling characters, Anita Davison weaves a magnificent Victorian era love story filled with dark family secrets and intrigues. Each chapter is more tempting than the one before it. Fans of eloquent and meaningful romantic historical fiction will want to savour every word. Not only are the historical details well presented, but the love story that unfolds is exhilarating and stunning. A deep, enriching lesson on the nature of life and love." Mirella Patzer - Historical Novel Review" -- Mirella Patzer – Historical Novel Review Blog - 
Read More
Trencarrow Secret is a Victorian novel about family relationships, growing up, and marriage. Isabel is a young woman vacationing with her family for the summer. She discovers her father in a questionable situation with her ailing mother's nurse and discovers her parents had a marriage of convenience. Is she willing to marry Jared (which is expected of her) for the same reason or does she have the courage to pursue love? And can she forgive her father for betraying her mother? A great book and I was thoroughly entertained, I glimpsed the woman Isabel will become, and the surprise ending make me give this a five.--Tara Chevrestt – Bookbabes Review Blog - 
Read More