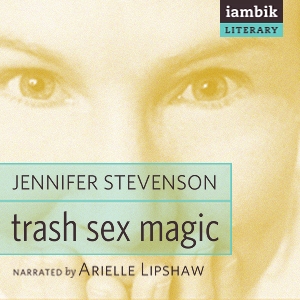 Trash Sex Magic
Narrator:




Publisher:




Proof-listener:

Linda Andrus



Length:

10:32:43



File Size:

~ 470 MB



Share:

Sample:
Buy from Audible:
Description
Jennifer Stevenson's debut novel starts with Raedawn Somershoe who lives in a trailer on the banks of the Fox River. She likes men and men like her. It runs in the family: her mother, Gelia, can seduce a man just by walking across a road. When they set their sights on a man, something magical happens.
Alexander Caebeau drives a bucketloader for a construction company. He's lonely, homesick, tired of cutting down trees and putting up ugly buildings. He dreams of going back to the Bahamas, but when Alexander meets Raedawn Somershoe, something magical happens.
Raedawn has just lost her lover. Her mother is keeping secrets from her. Her childhood sweetheart has come home and is looking for answers. Riverfront developers want Rae and her family gone. She may just be falling in love with Alexander Caebeau. And the Fox River is beginning to rise. . . . Something magical is about to happen.
First Line
Raedawn Somershoe shook her mother's shoulder. "Gelia! Wake up!" She jumped back as Gelia's fist swung out of the blankets.

Reviews
"This just absolutely rocks. It's lyrical, it's weird and it's sexy in a very funky way. Trash Sex Magic is full of people you would maybe be afraid to meet in real life, but once you've met them fictionally you are damn sorry you can't at least have a beer with them." —Audrey Niffenegger, The Time Traveler's Wife
"Stevenson's first novel is at once sexy, beautifully written and passing strange." — Publishers Weekly
"It's not often you get characters like those that appear in Jennifer Stevenson's Trash Sex Magic. Even if you remove the oddities like the underground huts and the tree fucking, Stevenson presents men and women who feel entirely new to literature, and they're so good you have to wonder why they've been missing…. It's so refreshing to read a fantasy book that doesn't read like it bows down to Tolkien, a book with a message that doesn't sound preachy. Trash Sex Magic is Stevenson's first novel, and it will be exciting to see what she comes up with next." — Bookslut
More Metadata!
Iambik Audio ISBN:
9781926673981
Iambik Audio Publication Date:
Mar 17, 2012
Print ISBN:
9781931520126
Print Publication Date:
Jun 1, 2004
Audio Distribution Rights:
Worldwide
Keywords/tags:
family
,
feral children
,
gentrification
,
identity
,
magic
,
mothers and daughters
,
nature
,
sex
,
transformation
,
trees