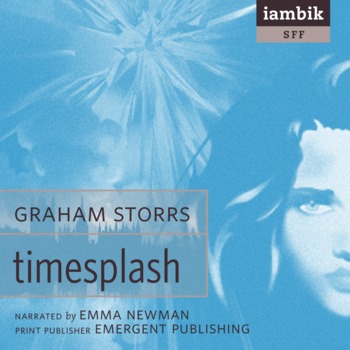 Timesplash
Narrator:




Publisher:




Proof-listener:

Susan Claybrook



Length:

9:11:32



File Size:

~ 485 MB



Share:

Sample:
Buy from Audible:
Description
Jumping back in time used to be fun… until people started dying. In the year 2050, London is on the verge of destruction. A thrill-seeker calling himself Sniper is about to jump back in time to create a time paradox. It's called timesplashing. It is exciting, dangerous, and the people who do it love every moment. Best of all, it doesn't change a thing – except in the present. When the acausal backwash from the splash hits the present, all hell breaks loose. Make a big enough timesplash, far enough back, and it can devastate a whole city. Once, timesplashing was an extreme sport and an excuse for a big party. Then Sniper took it too far. People started dying. Sandra and Jay are two people whose lives were shattered in a timesplash that went badly wrong in 2047. Now, each in their own way, they are hunting the timesplashers. And if they don't find them, millions could die
First Line
The music thundered. So loud it was hard to breathe. The way the dancing crowd heaved in time to the beat made Patty feel nauseous.

Reviews
Reader, Emma Newman brings Timesplash to life over a reading that lasts over 9 hours. It may be felt at first glance that such a story is a bit on the long side but as the pace gradually builds up, there is lots of exciting drama to keep the listener hooked. Emma therefore has quite a task to keep the pace going, and it is something she achieves brilliantly. - Read More
"This page-turner gets into action from the start: a girl in fear, the baddy supreme. Author Graham Storrs expertly paints a future world with problems even worse than at present" Cathy McLeod, Booktaste.
"Timesplash takes a new, and completely unique, stance on time travel in fiction, and the book will keep you involved right from beginning to end. I'm highly recommending this one to anyone who enjoys this genre." Trevas Walker, ebookguru.com
More Metadata!
Iambik Audio ISBN:
9781926673721
Iambik Audio Publication Date:
Aug 31, 2011
Print ISBN:
9781616501235
Print Publication Date:
Feb 1, 2011
Audio Distribution Rights:
Worldwide
Keywords/tags:
scifi
,
thriller
,
time travel