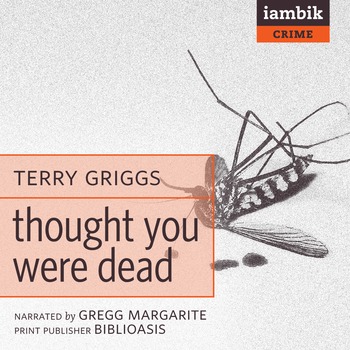 Thought You Were Dead
Narrator:




Publisher:




Proof-listener:

Susan Claybrook



Length:

7:41:37



File Size:

~ 330 MB



Share:

Sample:
Buy from Audible:
Description
Meet the Perfect Man…no, no he's not the hero of Thought You Were Dead. That would be Chellis Beith, literary researcher, slacker, reluctant detective, and a man bedeviled by every woman in his life. There's his lost love, Elaine Champion, a now happily married inventor who uses him for market research, his best friend's dotty ex-wife, Moe, his two vanished mothers, and his menacing boss, Athena Havlock, a celebrated writer who herself becomes embroiled in the dark side of fiction. The humour is wild, the language a thrill, the mystery within marvelously deft and daft. And as for the Perfect Man… well, nothing is as it seems. Is it? Thought You Were Dead is the most unconventional of all murder mysteries, turning the genre completely on its head, by bludgeoning flat language and Puritanical sensibilities with evident glee. This is further evidence that Terry Griggs is sui generis: an original and completely inimitable literary voice, with an eye for the cinematic.
First Line
The doghouse that Chellis currently found himself in was meant for a much smaller doggie, a bad pup the size of Bunion or Hormone.

Reviews
Thought You Were Dead takes chances, bends rules, and breaks the mold. Instead of inviting the reader to race the protagonist to assemble clues and solve the crime, Griggs forces us to wait along with everyone else to discover if there has been any crime at all. Fortunately, everyone here is a great pleasure to wander with, and the trip goes quickly. -- Rob Mrkonich, Harvard Book Review - Read More
... [B]reakneck pacing and absurdist plot developments, which include the appearance of a very unconventional weapon near the book's close. Griggs's finest joke lies in her decision to set her novel in the publishing industry, which allows her to riff on tacky book covers and take aim at everyone from aspiring writers to copy editors to a lowly book reviewer who meets an untimely demise. -- Lee Ferguson, CBC Arts & Entertainment - Read More
Thought You Were Dead takes the crime novel formula and turns it on its head with such a literary consciousness that book reviewer becomes uncomfortable using such cliches as "turns it on its head." -- Pickle Me This - Read More
More Metadata!
Iambik Audio ISBN:
9781926673509
Iambik Audio Publication Date:
Jul 15, 2011
Print ISBN:
9781897231531
Print Publication Date:
Apr 15, 2009
Audio Distribution Rights:
Worldwide
Keywords/tags:
adoption
,
Canada
,
inventor
,
kidnapping
,
murder
,
mystery
,
mystery writer
,
researcher
,
slacker