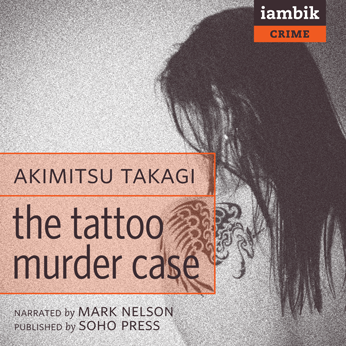 The Tattoo Murder Case
Narrator:




Publisher:




Proof-listener:

Elizabeth Medeiros



Length:

11:57:44



File Size:

~ 310 MB



Share:

Sample:
Buy from Audible:
Description
Miss Kinue Nomura survived World War II only to be murdered in Tokyo, her severed limbs left behind. Gone is that part of her that bore one of the most beautiful full-body tattoos ever rendered by her late father. Kenzo Matsushita, a young doctor, must assist his detective brother who is in charge of the case, because he was Kinue's secret lover and the first person on the murder scene.
Cover image adapted from a photo by Janine.
First Line
It was the summer of 1947, and the citizens of Tokyo, already crushed with grief and shock over the loss of the war, were further debilitated by the languid heat.

Reviews
A female's limbs and head are found in a locked bathroom, and all the doors and windows of the house are locked. The dismembered body is discovered by two admirers, Professor Heishiro Hayakawa, a collector of tattoo skins, and Kenzo Matsushita, the naive, lovestruck younger brother of Detective Chief Inspector Daiyu Matsushita. The police's problems are compounded by two additional murders. A tattooed man?the brother of the first victim?is found dead and has been skinned, and victim number three, the jealous lover of the woman, is found dead from a gunshot to the head. Frustrated by their inability to solve these crimes, the brothers Matsushita, who have joined forces, enlist the services of Kyosuke Kamizu, the "Boy Genius." Kamizu methodically analyzes the deaths, interviews the prime suspects, and quietly solves the case. Intermingled among the twisted plot is the Japanese tradition of myth and superstition, ritual, male and female relationships, the strong tradition of family and family honor, and the relationships of younger brothers to older brothers. Takagi, Japan's most acclaimed mystery writer, has created a first-rate mystery, excellently translated into English. --Library Journal