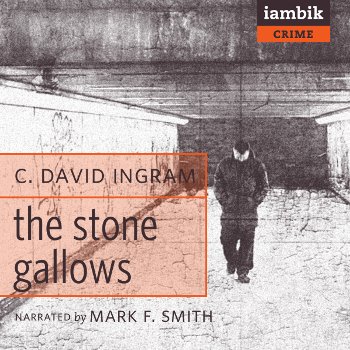 The Stone Gallows
Narrator:




Publisher:




Proof-listener:

Mary McCullough



Length:

11:38:38



File Size:

~ 600 MB



Share:

Sample:
Buy from Audible:
Description
After the accident, DC Cameron Stone had spent three months in intensive care before he could even recall what happened: the high speed pursuit of a vice baron through the night streets of Glasgow that had not only almost finished him but had taken the life of a teenage mother and her child. Then there'd been the message from Audrey on the back of a 'get well soon' card announcing that she had left him and taken their young son, Mark, with her. Booze, anti-depressants and therapy have all failed to enable him to resume his old job.
So now Stone lives in a one-room flat in the worst part of town. He pays the rent by running errands for a private detective agency. His tasks include tracking down a teenage runaway and surveillance for a woman who thinks her husband is sleeping with her sister. He's also paid by his former colleagues, doing the work that's not quite clean enough for them to do themselves- like putting the fear of God into Jason Campbell, a newly released sex offender whose been seen hanging around the local High School in his soft-top Mercedes.
Stone is having a bad week. Audrey is getting difficult about contact arrangements for Mark. She's moved into the plush home of a plastic surgeon: there's talk of marriage- and adoption for Mark. He finds his runaway in a brothel and just gets roughed-up for his trouble. There's the knife wielding kids who try to mug him on the stairs and the daubing on his front door: Burn in Hell Baby Killer. The only brightness on his horizon is his growing friendship with Liz, the sunny Irish nurse who lives on the next floor. But then petrol is poured through his letterbox and his flat ablaze. And now a stranger has turned up at the school and driven off with his son…
First Line
I was going to kill him.

Reviews
Gritty, pull-no-punches realism distinguishes Ingram's debut, the first in a series set in Scotland. One day, while speeding through the streets of Glasgow in an unmarked police car after a high-stakes surveillance target, Det. Constable Cameron Stone hits a teenage mother and her infant, killing them instantly. Stone's career in the force doesn't survive much past his hospital discharge, but a former colleague rescues him from destitution by offering him private investigative work. Stone tries to live down the notoriety of his tragic accident, which leads to the occasional graffiti on his door labeling him a baby killer, and has to fight with his former girlfriend to spend time with their son. Stone gets to take an active role assisting his boss when a client suspects her husband is having an affair with her sister. Though some may not care for the contrived closing twist or the abrupt ending, an obvious setup for the next book, the solid writing will leave most readers wanting more. -- Publishers Weekly
In this first book by C David Ingram, we have a new detective who can operate outside the constraints the police force need to observe. Ingram has said in interviews and in the acknowledgements that he is writing further stories featuring Cameron Stone. This great first book makes me want to read the next installment – Ingram having promised some interesting times ahead for Cameron Stone. -- Eurocrime - Read More
C. David Ingram brings Glasgow to the reader with a real voice. I've spent an extensive amount time in the city over the last of couple of years, and the story felt true, and set squarely in the culture. The story is pacey, and while Stone is put through a hellish existence, it's delivered in a way that makes it believable and dramatic at the same time. A great read that made me late for work because I kept wanting to read just one more page … then another … Highly recommended. -- Barb Ettridge, Mean Streets - Read More
More Metadata!
Iambik Audio ISBN:
9781926673837
Iambik Audio Publication Date:
Nov 3, 2011
Print ISBN:
9781905802203
Print Publication Date:
May 1, 2009
Audio Distribution Rights:
Worldwide
Keywords/tags:
murder
,
private investigator