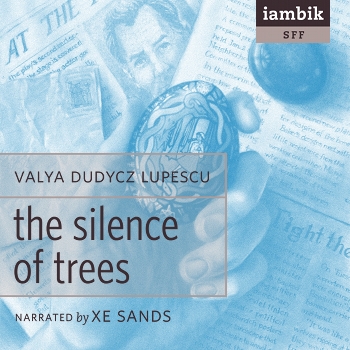 The Silence of Trees
Narrator:




Publisher:




Proof-listener:

Betsie Bush



Length:

9:58:24



File Size:

~ 550 MB



Share:

Sample:
Buy from Audible:
Description
In Chicago's Ukrainian Village, Nadya Lysenko has built her life on a foundation of secrets. When she was sixteen, Nadya snuck out of her house in Western Ukraine to meet a fortuneteller in the woods. She never expected it to be the last time she would see her family. Decades later, Nadya continues to be haunted by the death of her parents and sisters. The myths and magic of her childhood are still a part of her reality: dreams unite friends across time and space, house spirits misplace keys and glasses, and a fortuneteller's cards predict the future. Nadya's beloved dead insist on being heard through dreams and whispers in the night. They want the truth to come out. Nadya needs to face her past and confront the secrets she buried. Too often the women of history have been silenced, but their stories have power-to reveal, to teach, and to transform. This is one such story.
First Line
There is a Ukranian legend that once each year, on the night of Ivana Kupala, a magical flower blooms in the heart of the forest.

Reviews
"Throughout we get bits and pieces of Ukrainian folklore and mythology woven into the narrative, all of it handled in a very believable and evocative manner, lending deeper import to the day-to-day lives of the characters. Lupescu pulls all of this off with great aplomb, making it so natural that by the time the reader gets to the end of the book, those beliefs feel like they're something we've always known. [...] Lupescu did as excellent a job with characterization as she did with all the other elements of her book." -Charles de Lint, Magazine of Fantasy and Science Fiction - Read More
"Few book reviews start with a foot rub but, really, more should. In one of the most thrilling scenes in Valya Dudycz Lupescu's first novel—exciting for its unabashed passion and feminism, and most important for the new story it promises to start even thirty pages from the book's end. . ." –Kristin Thiel, Book Review for The Nervous Breakdown - Read More
"Valya Dudycz Lupescu presents us an impressive novel debut with The Silence of Trees, in which she conjures a captivating story of the heroine, Nadya, across more than fifty years of secrets, truths, tales told and untold, quiet sacrifices, as well as memories of a difficult personal history she left behind in Central Europe. While letting go of her ghosts during her final years, she came closer to what was painfully lost to her and her people, even closer to the many small measures of happiness awaiting her . . . Will she embrace a present that renews and honors a heavy past? Like an enchanting tapestry of Ukrainian magic and folkloric images, this is a thoughtful and beautiful work." –Fiona Sze-Lorrain, author of Water the Moon
More Metadata!
Iambik Audio ISBN:
9781927472033
Iambik Audio Publication Date:
Mar 29, 2012
Print ISBN:
9780982126134
Print Publication Date:
Sep 23, 2010
Audio Distribution Rights:
Worldwide
Keywords/tags:
family
,
immigrants
,
immigration
,
love
,
marriage
,
mysticism
,
traditions
,
Ukraine
,
war