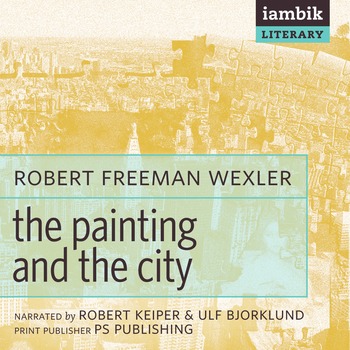 The Painting and The City
Narrator:




Publisher:




Proof-listener:

Elizabeth Medeiros



Length:

8:08:01



File Size:

~ 380 MB



Share:

Sample:
Buy from Audible:
Description
What is the secret contained in Philip Schuyler's painting? Who was the woman he depicted, the innocent woman and her dark stalker? The Kreunen sisters know, but they must re-bury the past. And Jacob Lerner, artist flailing in a sea of commerce, can only press forward, explore his own art and the mystery of Schuyler's painting, aided and manipulated by an animate marionette of rosy glass…
Manhattan, summer, in the rosy dawn of the 21st century, the sculptor Jacob Lerner sees a painting at a friend's apartment and is drawn into an obsessive search for traces of its long-dead painter, fictional 19th-century artist Philip Schuyler, and his subject, a woman called Madame Burgundy. The search leads to the remains of a once-powerful but still wealthy Dutch-American secret society, and carries Lerner through real and surreal Manhattan streets, buildings, and countryside. Finding Schuyler's journal draws Lerner in deeper. Finding the dapper marionette makes it impossible for Lerner to escape.
The Painting and the City tells a story of art and its conflict with commerce, the way art can (literally) reshape the world, and the consequences of such a reshaping.
First Line
Tonight, for all its magnificence, the city projected a claustrophobic attitude in which barren and cheerless buildings huddled for companionship, creaking across streets and alleys to confer with their neighbors.

Reviews
Seemingly informed by an artist's eye and driven by its fantastic elements, this complex, enthralling novel is concerned with relations between art and commerce, and nature and commerce; the importance of the past; the everyday oppression of capitalism; and how art may shape history. -- Booklist
Certainly one highlight of The Painting and the City is the city—the cities—that Wexler has built, the surreal aesthetics of their construction. Wexler captures the surrealism latent in the modern city: the odd juxtapositions; the hyperawareness of constant change; the sense that anything can happen. -- Strange Horizons - Read More
"His fiction is deep and unique with its own off-kilter, waltz-like rhythm... He's one of those writers who travels his own country, for whom the terms Science Fiction or Fantasy or Mainstream are pointless appellations. He doesn't consider "genre" when writing but operates organically from his sub-conscious, discovering the story as it reveals itself to him. With this method the fiction isn't tied to a pre-conceived category but is an idiosyncratic hybrid of all of his influences, literary and lived, reconfigured by imagination and revealed. There are instances of the fantastic in all his major works, but they are so inextricably linked, as with an atomic bond, with the "realistic" concerns of the everyday." - from the introduction by Jeffrey Ford.
More Metadata!
Iambik Audio ISBN:
9781926673325
Iambik Audio Publication Date:
Jun 15, 2011
Print ISBN:
9781906301545
Print Publication Date:
Jul 1, 2009
Audio Distribution Rights:
Worldwide
Keywords/tags:
creation
,
creative process
,
fantasy
,
imagination
,
journal
,
marionnette
,
painting
,
portrait
,
time distortion