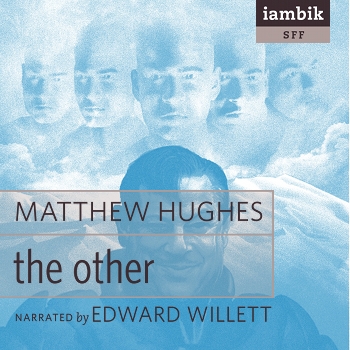 The Other
Narrator:




Proof-listener:

Elizabeth Medeiros



Length:

6:59:29



File Size:

~ 395 MB



Share:

Sample:
Buy from Audible:
Description
Readers know Luff Imbry from many of Matthew Hughes' earlier novels. For the first time, Imbry is placed front and center in a novel dedicated exclusively to him. Luff Imbry is an insidiously clever confidence man who always maintains the upper hand in his criminal dealings. But when an unknown business rival gets the drop on him and plumps him down on Fulda — a far-off, isolated world — Imbry learns just how exceptional he is. Unable to blend in and furious for revenge at an anonymous perpetrator, Imbry has to rely on his infamous criminal wit to survive Fulda's crusade to extinguish the Other.
First Line
The subtle simplicity of the trap took Luff Imbry by surprise.

Reviews
"Hughes serves up equal measures of wit, intrigue, and seat-of-the-pants action and even dabbles a little in Jungian psychology." — Booklist
"Superlative. A droll narrative voice, dry humor, and an alternative universe that's accessible without excessive exposition." — Publishers Weekly
"A bit Arthur Conan Doyle, a bit Jack Vance . . . [with] the lasting appeal of one of PG Wodehouse's Bertie Wooster books." — Seattle Times
More Metadata!
Iambik Audio ISBN:
9781927472026
Iambik Audio Publication Date:
Mar 21, 2012
Print ISBN:
9780982663967
Print Publication Date:
Nov 1, 2011
Audio Distribution Rights:
Worldwide
Keywords/tags:
adventure
,
alien
,
alien worlds
,
aliens
,
future
,
mystery
,
religion
,
revenge
,
science fiction
,
scifi
,
space travel
,
thievery