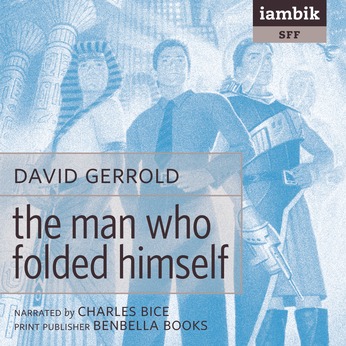 The Man Who Folded Himself
Narrator:




Publisher:




Proof-listener:

Alex Bowyer



Length:

4:27:57



File Size:

~ 235 MB



Share:

Sample:
Buy from Audible:
Description
The Man Who Folded Himself, written in 1973 (and reissued by BenBella in 2003) is a classic science fiction novel by award-winning author David Gerrold. This work was nominated for both Hugo and Nebula awards and is considered by some critics to be the finest time travel novel ever written.
First Line
I hadn't seen Uncle Jim in months.

Reviews
"David Gerrold proves that he can do all the things that made us love Heinlein's storytelling -- and often better." -- ORSON SCOTT CARD
"This is all widely imaginative and mindbending... Gerrold is such a good writer that he keeps us reading through... shifts of time, space and character -- right into pre-history... After reading this one, time-machine addicts will never quite be able to look at the gadget again as a simple plaything." --PUBLISHER WEEKLY.
"A major talent" -- BOOKLIST
More Metadata!
Iambik Audio ISBN:
9781926673400
Iambik Audio Publication Date:
May 18, 2011
Print ISBN:
9781932100044
Print Publication Date:
Jul 1, 2003
Audio Distribution Rights:
Worldwide
Keywords/tags:
free will
,
identity
,
morality
,
parallel universes
,
philosophy
,
sex
,
Star Trek
,
time belt
,
time machine
,
time travel