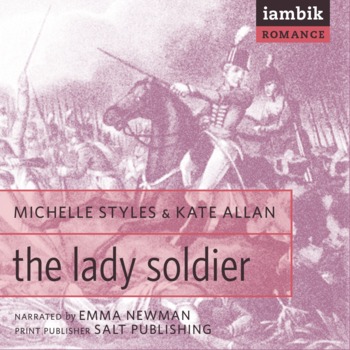 The Lady Soldier
Narrator:




Publisher:




Proof-listener:

Susan Claybrook



Length:

8:36:25



File Size:

~ 450 MB



Share:

Sample:
Buy from Audible:
Description
1812. Spain. Jem Riseley, brave, skilled and daring, the perfect soldier in Wellington's Army except she is a gently-born lady. A battlefield promotion provides an escape from a sadistic Major, but first Jem must convince jaded Captain Tony Dorrell, who knew her as a lady, that she's the man she seems. From the dangers of war-torn Spain to scandal in London's elegant drawing rooms, Jem will fight to preserve her secret. However, the reappearance of an old adversary forces Jem to confront her past to save her and England's future.
Cover image from Wikimedia Commons
First Line
She must keep every muscle in her shaking arm steady, her line of aim absolutely straight, ignore the fat black crow sitting on the bare elm tree squawking at her through the dawn that she couldn't do it.

Reviews
I really enjoyed Lindsay's The Lady Soldier. I have a weakness for loving "Chick-in-Pants" stories and Lindsey fed that need wonderfully with her rich descriptions and historical texturing. Her prose is beautiful and the historic research she obviously did proves that she is a writer with potential. -- Cybil Solyn, Rakehell - Read More
More Metadata!
Iambik Audio ISBN:
9781926673691
Iambik Audio Publication Date:
Aug 10, 2011
Print ISBN:
9781844718504
Print Publication Date:
Feb 14, 2011
Audio Distribution Rights:
Worldwide
Keywords/tags:
adventure
,
history
,
Peninsula War
,
Sharpe