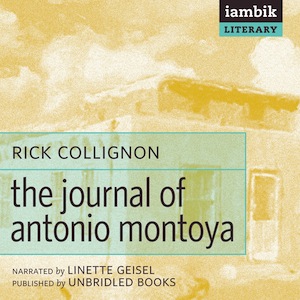 The Journal of Antonio Montoya
Narrator:




Publisher:




Proof-listener:

Charles Bice



Length:

4:04:09



File Size:

~ 215 MB



Share:

Sample:
Buy from Audible:
Description
The Journal of Antonio Montoya is the first book of the Guadalupe series.
When little José Montoya's parents are killed one August morning by a cow, his Tia Ramona and his Tio Flavio are troubled by how best to raise the boy. After the funeral, they drive to their childhood home behind the village office, but "before they reach the house, the front door swung open and Ramona's grandfather, Epolito Montoya, who had been dead for thirteen years, stood in the doorway. 'Why are you out in the rain?' he said."
Ramona has returned reluctantly to this isolated village in northern New Mexico and to the family that never lets go. As she tries to build a modern life here on her own terms, and still to care for young José, she discovers that she can reach through time, see the richness of her heritage, and reclaim riches, knowledge, art that disappeared generations ago. In fact, she can speak with her ancestors and learn their stories.
These, finally, are the fortunes she will try to pass on to José.
First Line
José Montoya's mother and father were killed early one warm August morning by a cow.

Reviews
Collignon delivers his own engaging brand of magical realism with a spare style, deadpan humor and bracingly fresh descriptions. -- Publishers Weekly - Read More
After Jose Montoya's parents are killed by a cow, the deceased mother requests from her casket that her spinster sister-in-law, Ramona, raise the orphan. Returning home, Ramona finds her equally defunct grandparents waiting for her. They reveal to her a truncated journal written by her grandfather's cousin Antonio in which events and relatives are linked in an unending continuum that has no end; in fact maybe everything has already happened before. Death is vitally necessary, Ramona realizes, to let the living go on. Ramona's natural acceptance-and, by extension, ours-of the intrusion and integration of the quick and the dead as normal equalizes the supernatural elements with the worldly ones. Strongly reminiscent of the magic realism of Garcia Marquez, this is an enchanting work by a new writer. -- Library Journal
In this quirky story death is neither mighty nor dreadful enough to be climactic. -- The New York Times Book Review, Andy Solomon
More Metadata!
Iambik Audio ISBN:
9781926673295
Iambik Audio Publication Date:
Apr 13, 2011
Print ISBN:
9780380730568
Print Publication Date:
May 22, 1996
Audio Distribution Rights:
Worldwide
Keywords/tags:
ancestors
,
community
,
family
,
Guadalupe
,
heritage
,
New Mexico
,
series
,
small town
,
spirits
,
transitions
,
village