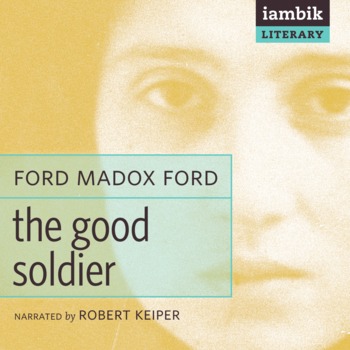 The Good Soldier
Length:

7:45:55



File Size:

~ 410 MB



Share:

Sample:
Buy from Audible:
Description
The Good Soldier: A Tale of Passion is a 1915 novel by English novelist Ford Madox Ford. It is set just before World War I and chronicles the tragedy of Edward Ashburnham, the soldier to whom the title refers, and his own seemingly perfect marriage and that of two American friends. The novel is told using a series of flashbacks in non-chronological order, a literary technique that formed part of Ford's pioneering view of literary impressionism. Ford employs the device of the unreliable narrator, to great effect as the main character gradually reveals a version of events that is quite different from what the introduction leads you to believe. The novel was loosely based on two incidents of adultery and on Ford's messy personal life.
First Line
This is the saddest story I have ever heard.http://www.gutenberg.org/ebooks/2775

Reviews
The Good Soldier is an odd and maybe even unique book. That it is a masterpiece, almost a perfect novel, comes as a repeated surprise even to readers who have read it before. [...] Ford wrote other very good novels - his tetralogy Parade's End is moving and innovative - but he called The Good Soldier his "auk's egg" ("having reached the allotted, I had laid my one egg and might as well die"); it does have the quality of saying absolutely everything about both his story and his theme - not just everything he has to say, but everything there is to say. — Jane Smiley, guardian.co.uk - Read More
More Metadata!
Iambik Audio ISBN: 9781926673561
Iambik Audio Publication Date: Jul 25, 2011
Print Publication Date: Mar 1, 1915
Audio Distribution Rights: Worldwide