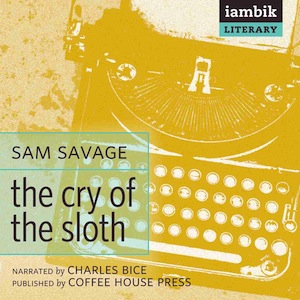 The Cry of The Sloth
Narrator:




Publisher:




Proof-listener:

Elizabeth Medeiros



Length:

6:04:44



File Size:

~ 320 MB



Share:

Sample:
Buy from Audible:
Description
ONE OF PUBLISHERS WEEKLY'S BEST BOOKS OF THE YEAR
The four-month odyssey of a literary lowlife.
Set in middle America during the economic hard times of the Nixon era, this tragicomic, epistolary masterpiece chronicles everything Andrew Whittaker—literary journal editor, negligent landlord, and aspiring novelist—commits to paper over the course of four critical months.
From his letters, diary entries, and fragments of fiction, to grocery lists and posted signs, we find our hero hounded by tenants and creditors, harassed by a loathsome local arts group, tormented by his ex-wife, and living on a diet of fried Spam, cupcakes, and Southern Comfort. Determined to redeem his failures and eviscerate his enemies, Whittaker hatches a grand plan. But as winter nears, his difficulties accumulate, and the disorder of his life threatens to overwhelm him.
A send-up of the literary life and the loneliness and madness that accompanies it, Sam Savage proves that all the evidence is in the writing, that all the world is, indeed, a stage, and that escape from the mind's prison requires a command performance.
First Line
Dear Mr. Fontini, This is for the record. The sheetrocker has submitted his bill for replacing the ceiling in the kitchen.

Reviews
"Savage's sense of humor is true to his name, but The Cry of the Sloth reminds us of the great Russian satirist Ivan Goncharov, who also saw the tragedy in pretending to be productive." —Time Out Chicago
"Wickedly comic . . . Andrew Whittaker may just be the most lovably unlovable character in recent letters. . . . That it has been pulled off as a marvelously slapstick tragedy says volumes about Sam Savage's talent: Turns out this late bloomer is also a repeat bloomer." —Minneapolis Star Tribune
"Delightful . . . Imagine a comic version of the great Fernando Pessoa's The Book of the Disquiet in epistolary form, with extra laceration." —Guardian
More Metadata!
Iambik Audio ISBN:
9781926673202
Iambik Audio Publication Date:
Apr 13, 2011
Print ISBN:
9781566892315
Print Publication Date:
Sep 1, 2009
Audio Distribution Rights:
Worldwide
Keywords/tags:
art
,
author
,
culture
,
dark comedy
,
epistolary
,
humor
,
landlords
,
madness
,
middle-aged men
,
paranoia
,
writing