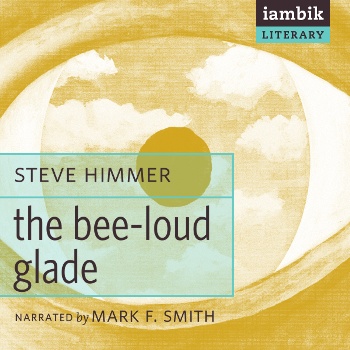 The Bee-Loud Glade
Narrator:




Publisher:




Proof-listener:

Linda Andrus



Length:

8:01:55



File Size:

~ 420 MB



Share:
Buy from Audible:
Description
Himmer's debut novel, The Bee-Loud Glade, is the charming story of a decorative hermit who lives and works on a billionaire's estate, and whose daily experience is shaped by his employer's whims. The book combines a darkly comic commentary on modern work and wealth with a postmodern pastoral landscape. It brings a playfulness more commonly found in urban fiction to an outdoor setting.
First Line
Last night's storm rolled through like it meant something, crackling and snarling and snapping down branches, howling outside the mouth of my cave like the coyotes I sometimes hear far away in these hills (they've never come close, and I've never known why).

Reviews
"An allegorical novel that seems eerily contemporary. Thoreau meets Ballard, meets Huysmans and many more." -- Tom McCarthy, author of Remainder
"With The Bee-Loud Glade, Steve Himmer has written a hypnotic and heartfelt debut novel, interweaving naturalistic beauty and postmodern complexity within this compulsively readable parable. Whether the story's hermit-for-hire is a man approaching some form of enlightenment or merely the whim of an eccentric billionaire remains up for debate, but the novel itself is unambiguously ingenious and very clearly announces a shining new talent." -- Frederick Reiken, author of Day For Night, The Lost Legends of New Jersey, and The Odd Sea
"Featuring a faceless drone from the world of corporate America and an eccentric millionaire whose whims change by the week, Steve Himmer's The Bee-Loud Glade is a wonderful novel that's hard to describe, but that's a good thing. Just go where this stunning book takes you and enjoy the story, the characters, and the language." -- Michael Kindness, host of Books on the Nightstand
More Metadata!
Iambik Audio ISBN:
9781926673813
Iambik Audio Publication Date:
Oct 27, 2011
Print ISBN:
9780984510580
Print Publication Date:
Apr 4, 2011
Audio Distribution Rights:
Worldwide
Keywords/tags:
balance
,
eccentricity
,
garden
,
hermit
,
pondering
,
quietness
,
reflection
,
self-discovery
,
solitude