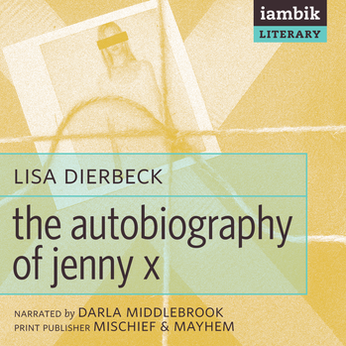 The Autobiography of Jenny X
Narrator:




Publisher:




Proof-listener:

Elizabeth Medeiros



Length:

10:08:24



File Size:

~ 530 MB



Share:

Sample:
Buy from Audible:
Description
On the surface of things Nadia Orsini's life appears comfortable and unremarkable – Ivy League educated, happily married to a doctor, a mother of three, and a moderately successful photographer. But not all is as it seems. Nadia has been telling lies. Nobody, not even her family, knows about her past, her dark dealings with a U.S. senator, or the scandal she was caught up in surrounding his young son. Then, Nadia receives a disturbing package in the mail and her mask threatens to disintegrate, exposing a horrifying secret. She realizes someone is spying on her, has broken in to her studio and rummaged through her hidden safe. If she can't stop them, she will lose her husband, family, suburban home – and the precarious hold on her own singular identity. Meanwhile, from a prison cell in the mountains, a convicted felon named Christopher Benedict is hatching a plot. The leader of a shadowy group of Aktionists, he writes daily to a woman known only as "Jenny X." Lisa Dierbeck's startling first novel, One Pill Makes You Smaller, gave an unflinching, raw account of a relationship between a charismatic adult man and an underage girl. Set in the gritty art world of the 70s, its surprising humor, honesty and eroticism drew acclaim from numerous publications, including The Boston Globe, The Los Angeles Times, O (the Oprah magazine), Publisher's Weekly and The New York Times Book Review, which named it a Notable Book of 2003.
First Line
"Nadia, are you cheating on me?" Dan asked on a Saturday night.

Reviews
"Fast-paced, psychologically taut … beguiling … sly and sharp." —New York Observer
"Cause for alarm." —Vanity Fair
"A tale of secrets and lies unraveled … a page turner with lots of sharp cultural observations." —Newsday
More Metadata!
Iambik Audio ISBN:
9781926673479
Iambik Audio Publication Date:
Jun 15, 2011
Print ISBN:
9781935928201
Print Publication Date:
Oct 30, 2010
Audio Distribution Rights:
Worldwide
Keywords/tags:
artist
,
ex-con
,
family
,
forgiveness
,
growth
,
identity
,
love
,
passion
,
past meets present
,
photographer
,
prison
,
secrets
,
understanding