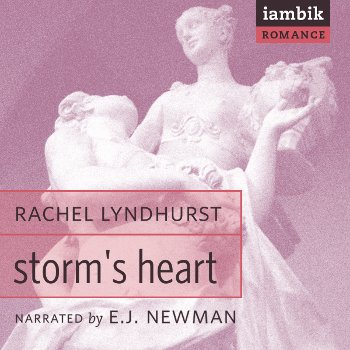 Storm's Heart
Narrator:




Publisher:




Proof-listener:

Susan Claybrook



Length:

5:11:44



File Size:

~ 270 MB



Share:

Sample:
Buy from Audible:
Description
Storm's Heart is a sexy, sophisticated romance with a dark, brooding centre. When Greek lawyer Andreas Lazarides and bistro-manager Kizzy Dean clash over the executing of his mother's final wishes, he takes matters into his own hands and Kizzy back with him to Ancient Greece. Tension runs high on the sun-baked Greek Island of Rhodes amidst the ancient myths and alleyways of Lindos village.
Hopelessly out of her depth and penniless, can innocent Kizzy resist the treacherous sexual attraction that draws her powerfully into Andreas' orbit? Dangerously appealing and darkly charismatic, he's made it quite clear that he wants her in her bed. It would be to her advantage, he'd make it worth her while.
She's an independent woman, born illegitimately into a brutal world, so is Kizzy tough enough to handle this millionaire Adonis? Can she keep the ironclad fortress around her heart intact? The stakes are high if she is to prevent history repeating itself.
No man on earth will leave her as heartbroken and destitute as her mother. An explosive meeting of two different worlds results in a mirror image of cruelty, betrayal, guilt and shame that only their passion for each other can possibly overcome. But is it enough?
Kizzy wants answers and her turbulent past and shadowy revelations kick up a storm in Andreas's heart that will not abate until his own explosive secrets are forced out into the open.
Cover background image from: Androfire – flickr
First Line
"Damn this place!"

Reviews
In Storm's Heart by Rachel Lyndhurst you will go on a fantastic trip with a whirlwind romance. This is contemporary romance that will take you on an exciting adventure … Storm's Heart explores the path to love for Andreas and Kizzy with great scenery and well drawn characters. Storm's Heart should be the book on the top of your To Be Read list. — Sizzling Hot Book Reviews - 
Read More
As corny as I feel admitting this, I shed a couple of tears at the end! The sex is scintillating … So hot, that there were parts I had to gloss over for fear of self igniting … This is Ms. Lyndhurst's first novel and she deserves a standing ovation. Her writing style swept me off my feet from page one. Her descriptions make me want to pack my bags and move to Lindos, so I can run barefoot through the cobblestone streets and take a daily dip in the Aegean! — Elsie Loves Fiction - 
Read More
Romance books are not perhaps my favorite genre, but … Storm's Heart is certainly one of the best I have read. . Something I particularly loved … is the perfect happy ending! If pure escapism is what you're after then you really can't do much better. — Girly Scribbles. - 
Read More
More Metadata!
Iambik Audio ISBN:
9781926673806
Iambik Audio Publication Date:
Oct 7, 2011
Print ISBN:
9781844718481
Print Publication Date:
Feb 14, 2011
Audio Distribution Rights:
Worldwide
Keywords/tags:
affair
,
Greece
,
love
,
relationship
,
Romance
,
tempestuous