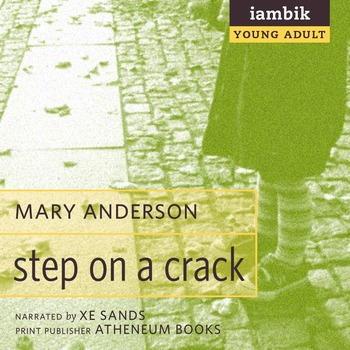 Step on a Crack
Narrator:




Publisher:




Proof-listener:

Betsie Bush



Length:

4:36:45



File Size:

~ 250 MB



Share:

Sample:
Buy from Audible:
Description
For as long as she could remember, Sarah has had a frightening nightmare. In it, she inexplicably kills her mother. After this nightmare she feels compelled to steal something. Not just anything, but some particular item which seems significant. Yet over the years she couldn't figure out the relevance of any of these stolen items. No one knows of Sarah's problem and she has no solution, despite reading dozens of psychology books hoping to find the answer.
Then Aunt Kat, her mother's sister whom Sarah has never met comes to visit which begins a frustrating weekend. Her mother falls and breaks her ankle and suddenly Sarah's nightmares begin to change to include sleepwalking. In desperation, Sarah seeks help and turns to Josie her odd but brilliant schoolmate.
Together the girls try to trace the source of Sarah's problem. Books, the stolen items, clues in the new nightmares, all seem to lead nowhere. Even the cryptic pronouncement of a psychic referring to a "grave beside a tomb" means nothing. But finally, everything begins to fall into place. Sarah begins to discover hidden things about herself which make her wish she had never begun the search.
Few of us actually know all the things which make us who we are but Sarah's past hid more than most.
Image credit: lindaaslund
First Line
Does a person know when they're going crazy?

Reviews
This was a great listen! I really enjoyed the twists and turns the novel took and the way Anderson closed it. Things were so intense with thirty minutes left to listen, I thought I'd jump off the edge of my seat. Don't let the young adult tag steer you away from this one, it was great! -- Maggie, audiobookfans.com - Read More
This is the first time I have heard Xe Sands narrate a book that was not a steamy paranormal romance. She did really well on giving the two young girls young sounding voices. Even making Josie sound even younger than Sarah. Xe has a really good story telling voice that helps you close out the rest of the world and dive right into the story. -- This was an interesting story that follows Sarah as she begins a journey to try to figure out why her dreams turn into nightmares about killing her mother. Along the way Sarah will befriend a young girl from school and together they try to sort out all the bits and pieces to discover the cause of the nightmare. -- This story shows what the true power of the subconscious mind is capable of. It is one thing to have a nightmare, it is another when you are compelled to commit certain acts because of it. -- Audiobook review, Alaskan Bookie - Read More
The sleuthing around Sarah's subconscious is diverting and Anderson's glib delivery, like Sarah's glamorous lifestyle, is easy to take. -- Kirkus Reviews
More Metadata!
Iambik Audio ISBN:
9781926673592
Iambik Audio Publication Date:
Jul 27, 2011
Print ISBN:
9780689306105
Print Publication Date:
Jan 1, 1978
Audio Distribution Rights:
Worldwide
Keywords/tags:
abuse
,
Alice in Wonderland
,
daughters
,
dreams
,
estrangement
,
family
,
kleptomania
,
memory
,
mothers
,
New York City
,
nightmares
,
psychology
,
relationship
,
secrets
,
teenagers