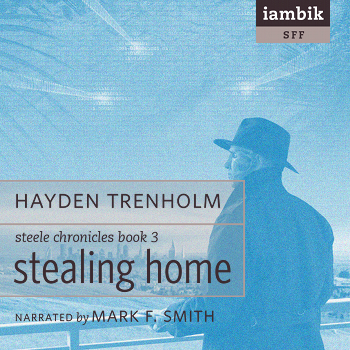 Stealing Home (Steele Chronicles Book 3)
Narrator:




Publisher:




Proof-listener:

Laura Caldwell



Length:

10:19:52



File Size:

~ 860 MB



Share:

Sample:
Buy from Audible:
Description
The eagerly anticipated conclusion to The Steele Chronicles!
When Frank Steele retired from the police force to work as a private detective, he left behind more foes than friends. His girlfriend Nancy disappears in a high-tech abduction, no trace of her assailants to be found.
Steele has a good idea what his long-time enemies want from him in exchange for Nancy, but he isn't willing to put control into the wrong hands. Fighting to survive amidst the treachery and power struggles of society's elite, he is haunted by the remnants of his dead son's memories. His new Borg implants introduce him to unimaginable physical capabilities and a final understanding of the intricacies of Borg culture.
Steele's investigation into the disappearance of his last chance at happiness only takes him further away from the law and deeper into the brutal underworld of a city and a man each desperately holding onto their humanity.
First Line
September 21, 2044 was pretty much a typical Calgary Wednesday.

Reviews
"Steel Whispers is an edge-of-your-seat amalgam of police procedural and razor-sharp science fiction. The streets of Calgary never seemed so mean! Fans of Dashiell Hammett and William Gibson both will love this; a great novel from one of Canada's fastestrising SF stars."
"Hayden Trenholm doesn't just steal home — he knocks the ball out of the park with this stunning conclusion to one of the best SF/Crime crossover series ever written. Bravo!"
— Robert J. Sawyer, Hugo Award-winning author of WAKE
More Metadata!
Iambik Audio ISBN:
9781927472286
Iambik Audio Publication Date:
Jan 22, 2013
Print ISBN:
9780978205256
Print Publication Date:
Jul 1, 2010
Audio Distribution Rights:
Worldwide
Keywords/tags:
biomechanical
,
Borg
,
Calgary
,
Crime
,
detective
,
inspector
,
murders
,
post-apocalyptic
,
rejuvenation