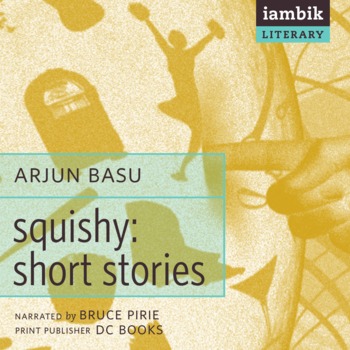 Squishy: Short Stories
Narrator:




Publisher:




Proof-listener:

Betsie Bush



Length:

3:59:06



File Size:

~ 210 MB



Share:

Sample:
Buy from Audible:
Description
Squishy is a wry and consistently provocative book exposing the realities beneath social conventions, asking such important questions such as: Do you still love me? Do you want fries with that? Do I look fat?
Life is full of small moments that define us, tangents that lead us to unexpected places, bad decisions and no decisions with repercussions you couldn't possibly predict. This is the world of Squishy, where subtle truths emerge from just beneath our seeming contentment and happiness, our layered social obligations. An aspiring actress fast approaching her best before date, a world weary travel writer, a disgraced ballplayer suffering the lingering effects of a wardrobe malfunction – all characters aware of life's promise and impossibility, all tempted by something just beyond, something surely delicious.
First Line
Someone says, "Maybe, but not now."

Reviews
Squishy shines not only as entertainment, but also as an illuminating literary work. In revealing human pretensions and the mechanisms of chance that govern our fates, Basu reminds us to treat each other with more compassion, and to take ourselves a little less seriously. - Montreal Review of Books - Read More
Arjun Basu's stories are well worth reading. They are deft, pointed and light on their toes. - Noah Richler, The National Post
More Metadata!
Iambik Audio ISBN:
9781926673684
Iambik Audio Publication Date:
Aug 31, 2011
Print ISBN:
9781897190364
Print Publication Date:
Apr 3, 2008
Audio Distribution Rights:
Worldwide
Keywords/tags:
accidents