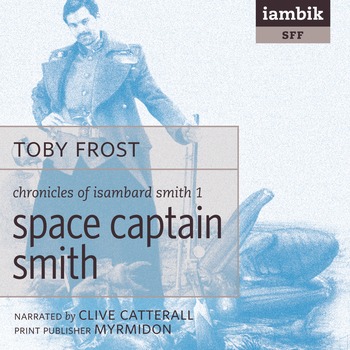 Space Captain Smith
Narrator:




Publisher:




Proof-listener:

Elizabeth Medeiros



Length:

7:06:16



File Size:

~ 375 MB



Share:

Sample:
Buy from Audible:
Description
Space Captain Smith is the first book of the Chronicles of Isambard Smith.
It's the 25th Century and the British Space Empire faces the gathering menace of the evil ant-soldiers of the Ghast hive, hell bent on galactic domination and the extermination of all humanoid life forms.
Captain Isambard Smith is the square-jawed, courageous and somewhat asinine new commander of the clapped out freighter John Pym, destined to take on the alien threat because nobody else is available.
Together with his bold crew- a skull-collecting alien lunatic, an android pilot who is actually a fugitive sex toy and a hamster called Gerald- he must collect new-age herbalist Rhianna Mitchell from the New Francisco orbiter and bring her back to the Empire in safety. Straightforward enough – except the Ghasts want her too and, in addition to a whole fleet of Ghast warships, Smith has to confront void sharks, a universe-weary android assassin and John Gilead, psychopathic naval officer from the fanatically religious Republic of Eden before facing his greatest enemy: a ruthless alien warlord with a very large behind…
First Line
One dull Tuesday morning, the door opened behind Isambard Smith and Mr Khan entered the room.

Reviews
Comic sci-fi of the joke-in-every-paragraph variety is a narrative challenge, but Clive Catterall carries it off. A courageous but clueless commander of the British Space Empire rust-bucket space ship JOHN PYM collects a motley crew. His mission to avoid galactic disaster takes listeners to distant planets that curiously resemble Earth communities of New Agers, religious fanatics, or American rednecks. Catterell's brisk delivery absorbs stereotypes, parodies of dozens of movies and books, stunning puns, and situations that flirt with farce. He doesn't need a sound track to makes an ambush by an alien warlord exciting. His perfect pacing gives listeners time enough to laugh but not enough to groan. M.C.T. © AudioFile 2011, Portland, Maine [Published: OCTOBER 2011] - Read More
'Gives the sacred cows of sci-fi a good kicking before racing home in time for tea.' Dirk Maggs, director of BBC Radio 4's The Hitch Hiker's Guide to the Galaxy
Frost's debut, a light-hearted interstellar adventure, focuses on a second-rate captain, Isambard Smith. Plucked from a desk job in the bureaucracy of the 25th century British Space Empire, Smith, whose attitudes are straight out of the original British Empire, is sent on a simple mission to escort Rhianna Mitchell from her home on the hippie planet New Francisco to the spaceport Midlight. Naturally the mission isn't as straightforward as Smith is led to believe and he finds himself making mortal enemies of the alien 462 and the evangelical Captain Gilead. Sudden scene changes leave the reader momentarily confused, and offhand references to pop science fiction culture are more clichéd than clever. An ironic sense of British rectitude nicely contrasts with the satire of 1940s space opera, but Frost never quite finds his voice or pacing. --- Publishers Weekly
More Metadata!
Iambik Audio ISBN:
9781926673417
Iambik Audio Publication Date:
May 11, 2011
Print ISBN:
9781905802135
Print Publication Date:
May 1, 2009
Audio Distribution Rights:
Worldwide
Keywords/tags:
aliens
,
android
,
blade-runner
,
British Space Empire
,
cyberpunk
,
hippies
,
humor
,
matrix
,
satire
,
spaceship
,
Star Trek
,
steampunk