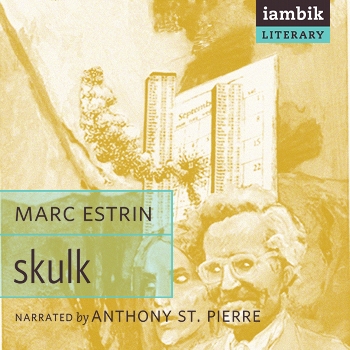 Skulk
Narrator:




Publisher:




Proof-listener:

Elizabeth Medeiros



Length:

6:05:36



File Size:

~ 260 MB



Share:

Sample:
Buy from Audible:
Description
Marc Estrin's Skulk is the sixth of his critically-acclaimed novels for lovers of intelligent fiction. Richard Gronsky is swept off his feet by T.L. Skulkington, a sassy, right-wing superstar, during one of her liberal-bashing talks. Their romance struggles with contrasting politics until a run-in with Homeland Security brings Miss Skulkington's libertarian impulses to the fore: "Skulk" is won over to Gronsky's causes — secession of the Free State of Kansas, and 9/11 Truth. So begins the couple's mad attempt to stage an Event which will awaken the Sunflower State to the Issues of the Day. Stirred by letters from John Brown's grave, they take flying lessons, and steal a Cessna to crash into Wichita's highest building. The reader is treated to a sophisticated parody of American political reality, a wild ride full of ironic twists and a stunning ending. In the Afterword, Estrin discusses his strategy in Skulk: to use comic fiction to probe dangerous real-world fictions parading as truth.
First Line
"So who is this guy in the red suit? Who is this old man sitting innocent little children serially on his lap, murmuring to them "What would you like? What would you really like?", smiling, and taking pictures?

Reviews
Marc Estrin has his finger on the pulse of American madnesses. Contemplating 9/11 conspiracies would be no laughing matter except in the hands of a writer who once (INSECT DREAMS) resurrected and apotheosized Gregor Samsa's discarded insect carcass. Now in SKULK, this master satririst raises questions of our national (ir)realities to breathless heights. As they used to say, "Right on!" -- Peter Glassgold - author of Angel Max, Anarchy!