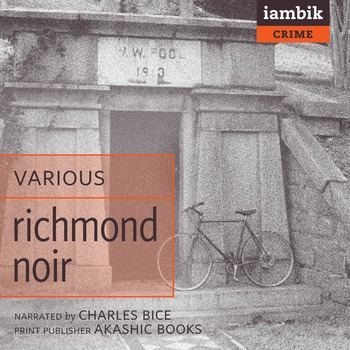 Richmond Noir
Narrator:




Publisher:




Proof-listener:

Mary McCullough



Length:

7:51:16



File Size:

~ 410 MB



Share:

Sample:
Buy from Audible:
Description
Collection edited by Andrew Blossom, Brian Castleberry and Tom De Haven.
"In The Air-Conditioned Nightmare, Henry Miller tosses off a hard-bitten assessment of the City on the James: 'I would rather die in Richmond somehow,' he writes, 'though God knows Richmond has little enough to offer.' As editors, we like the dying part, and might point out that in its long history, Richmond, Virginia has offered up many of the disparate elements crucial to meaty noir. The city was born amid deception, conspiracy, and violence . . .
"These days, Richmond is a city of winter balls and garden parties on soft summer evenings, a city of private clubs where white-haired old gentlemen, with their martinis or mint juleps in hand, still genuflect in front of portraits of Robert E. Lee. It's also a city of brutal crime scenes and drug corners and okay-everybody-go-on-home-there's-nothing-more-to-see. It's a city of world-class ad agencies and law firms, a city of the FFV (First Families of Virginia) and a city of immigrants–from India, Vietnam, and Africa to Massachusetts, New York, and New Jersey. It's a city of finicky manners (you mustn't ever sneeze publicly in Richmond) and old-time neighborliness, and it's a city where you think twice about giving somebody the finger if they cut you off on the Powhite Parkway (thats pronounced Pow-hite, not Po-white, thank you very much) because you might get your head blown off by the shotgun on the rack . . ."
First Line
When I got inside I called her name.

Reviews
David L. Robbins's "Homework," a moving account of a brief encounter between a burglar and a teacher, stands head and shoulders above the 14 other tales in Akashic's solid noir anthology devoted to Richmond, Va. Pir Rothenberg's "The Rose Red Vial," among the better of the many recent Poe-inspired stories, features nicely nasty betrayals and counter-betrayals among those who covet Poe memorabilia on loan to the Virginia Historical Society. Set in 1807, Dean King's concise "The Fall Lines" supplies an intriguing backstory to Aaron Burr's treason trial. In Howard Owen's "The Thirteenth Floor," a well-done contemporary fair play whodunit, a political reporter reassigned to the night police beat ends up investigating a murder-by-gunshot in his own apartment building. The three editors have done a better job offering variety than some other volumes in this acclaimed series. -- PUBLISHERS WEEKLY
Richmond, VA, is a city of contrasts. Steeped in history—as the capital of the Confederacy and a center of slave trade—the city has become known for state politics, commerce, culture, and crime as it has become increasingly diverse, while still symbolizing Southern gentility. Although each of these 15 stories reveals a side of Richmond, its contrasts are shown most vividly in Dennis Danvers's "Texas Beach," in which a man finds the body of an immigrant killed accidentally while illegally felling trees so that a prominent white politician would have a better view of the James River from his mansion. Murder, scattered through these entries, is most chilling when it is imminent, as in Tom De Haven's "Playing with DaBlonde," in which a laid-off ad exec who's into porn sees premonitions coming true. VERDICT A lovingly compiled entry in Akashic's strong regional noir series, this could have appeal beyond the Commonwealth and its capital. -- LIBRARY JOURNAL