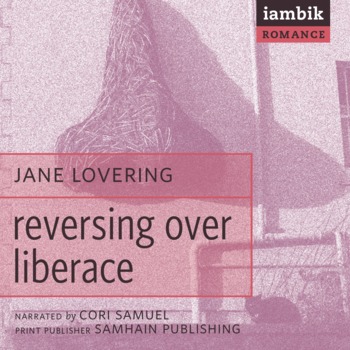 Reversing over Liberace
Narrator:




Publisher:




Proof-listener:

Susan Claybrook



Length:

8:37:58



File Size:

~ 455 MB



Share:

Sample:
Buy from Audible:
Description
Life, love and unlikely legacies.
Willow runs into Luke, the unrequited lust-of-her-life, ten years on and this time around he's interested –– she's lost twenty pounds and found fashion. But her best friends are suspicious that it's too good to be true. What is Luke *really * after, Willow or her anticipated inheritance?
Her brother's new friend Cal is gorgeous and…well… *gay.* Then reveals himself to be more than a mild, unassuming computer geek and she is no longer sure exactly *who* is telling the truth or who to trust.
Is anyone in her life what they seem to be?
Add to the romantic confusion, twelve pairs of rubber boots, two elderly spaniels, a pregnant sister and a disgruntled goat and you get a funny, touching story of a woman in search of revenge getting what she needs, rather than what she thinks she wants.
First Line
"My grandfather's left me his nose. It's in a matchbox."

Reviews
"One of the funniest books I've read in ages! It is smart and witty and the romantic oozes from every direction in this story... the chaos is hysterical!... A whole host of laugh-out-loud bits make this book one I won't forget.' -- Marlene, Fallen Angels Reviews
'This story is written in a chick-lit style although the sentiments of love and life are more optimisitic here compared to a typical chick-lit novel.... I enjoyed reading this story because of Willow's interactions with her most amusing siblings... A lively voice and prose. -- Mrs Giggles
'Very Bridget Jonesy and a lot of fun... funny first person account of female growth and introspection. Engaging Chick Lit and a really fun read.' -- Lynne Bushey, The Romance Studio"
More Metadata!
Iambik Audio ISBN:
9781926673745
Iambik Audio Publication Date:
Sept 14, 2011
Print ISBN:
9781599987941
Print Publication Date:
May 27, 2008
Audio Distribution Rights:
Worldwide
Keywords/tags:
chick-lit
,
friendship
,
geek
,
hacker
,
infidelity
,
inheritance
,
revenge
,
Romance
,
Yorkshire