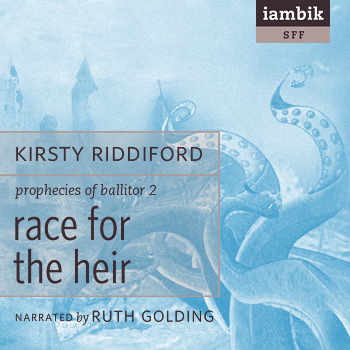 Race for the Heir (Book 2 of the Prophecies of Ballitor)
Narrator:




Publisher:




Proof-listener:

Elizabeth Medeiros



Length:

8:15:37



File Size:

~ 685 MB



Share:

Sample:
Buy from Audible:
Description
This is part 2 of the Prophecies of Ballitor, which started with The Book of Prophecies.
Ben returns home to the royal city of Quadrivium expecting a hero s welcome. Instead, he finds the city in turmoil. The king has been found dead in suspicious circumstances, clearing the way for someone to rule the kingdom through the infant prince. Ben immediately suspects his old enemy, the pale man. Or could it be the vainglorious Cardinal Bolt, who shows an excessive interest in the Book of Prophecies? The race for the heir is on when the prince is discovered to be missing. Accompanied by his old friends, Murgatroyd and Tobias, Ben sets out on a perilous journey across the uncharted waters of the Sylver Sea to the Abbey of the Ancients, where he believes the prince is being held. Hindered by sea monsters and savage storms, and helped by unexpected allies, Ben battles to be the first to reach the prince – but an unexpected surprise is waiting for him at his destination.
First Line
Nothing stirred. The young sentry rubbed his eyes and continued along the battlements towards the hut that served as a guardhouse, his breath leaving long streams of vapour that lingered in the air behind him.

Reviews
Waited anxiously for Ben's second adventure after totally loving "The Book of Prophecies" and was not disappointed! A fantastic read which gets you totally hooked.
Loved how all the twists were unexpected which had me completely absorbed. Once you start be prepared to be taken to another world.
One for young and old alike! - Amazon customer
I've now read both books in this series and think they're absolutely fantastic!! For me, this was un-put-downable (though I'm sure that's not a word) and a thoroughly absorbing read. The descriptions are so wonderful that I really did imagine myself being part of the adventure. Can't wait for the next installment. Hurry up. I want to experience what happens next!!! - Amazon customer