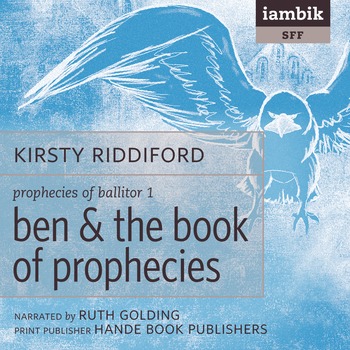 Ben and the Book of Prophecies
Narrator:




Publisher:




Proof-listener:

Elizabeth Medeiros



Length:

9:24:38



File Size:

~ 500 MB



Share:

Sample:
Buy from Audible:
Description
Ben and the Book of Prophecies is the first book of the Prophecies of Ballitor.
Ben is the youngest and most successful thief in the royal city of Quadrivium, but an unexpected encounter with Bella, the queen's mother, changes his life forever. In return for a substantial reward Ben agrees to track down the Book of Prophecies which disappeared from the palace library many years before. It is believed that the Book contains a prophecy which will save the kingdom from an impending war with the rebels. Yet Bella also has an ulterior motive, to find her son who went missing whilst searching for the same book. Ben finds himself catapulted into an unfamiliar world of magic and intrigue where talking eagles and mythical creatures help him on his quest. During his travels he unearths dark secrets as lives are put in peril and an unforeseen reunion surfaces. But not everyone wants the book to be found.
First Line
From a bird's eye view, the Royal City of Quadrivium looked a bit like a fried egg.

Reviews
Fans of Harry Potter and The Chronicles of Narnia may well enjoy this new children's adventure series from writer Kirsty Riddiford, writes Alex De Moller. The Story centres on Ben, a thief in the city of Quadrivium. He is approached by Royals who want him to steal a fabled Book of Prophecies, so they can see into the future. Expect talking eagles, kings and queens, cloak and dagger, intrigue and the search for a book that won't turn up. --Hammersmith & Kensington Times & Kilburn Times
Dear Kirsty Riddiford, I was inspired deeply by your exciting visit and so far I love your book Ben and the Book of Prophecies. [...] -- Review from School Visit
This is an excellent book and one I think would be enjoyed by all ages. I was immediately hooked and was looking forward to my tube journey each day so I could read more. My only disappointment? I have to wait a year to hear more of Ben's story!! This is a truly great read and one I'd thoroughly recommend. -- 5* Amazon Review