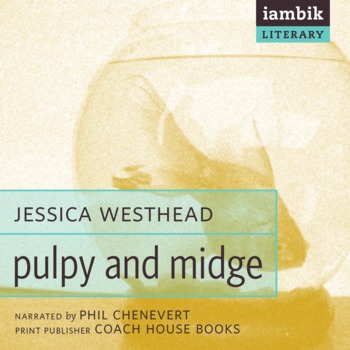 Pulpy and Midge
Narrator:




Publisher:




Proof-listener:

Mary McCullough



Length:

6:27:32



File Size:

~ 340 MB



Share:

Sample:
Buy from Audible:
Description
Brian Lembeck – 'Pulpy' – takes life slow and steady. He likes his office job, and he likes his gentle, figurine-collecting boss, Al. He even likes the bitter receptionist, though he's the only one who does. He likes his wife, Midge, too, and their ice-dancing lessons. Midge works as a candle-party hostess – she quit her office job when Al's dog ate her pet pigeon and Al promised Pulpy a promotion.
But when Al retires and the tyrannical Dan takes over, the promotion vanishes. And then Dan's oversexed wife, Beatrice, takes a shine to Pulpy, and Dan starts to think Midge is one hot tamale. Soon, the receptionist is smitten with Pulpy, Midge can't get rid of Dan and Beatrice, and Pulpy's job is in jeopardy. For once, Pulpy just might have to take a stand.
Cover background picture from Steve Maw
First Line
On the day of his boss's retirement party, Pulpy Lembeck took a taxi to work.

Reviews
'A hilariously deadpan, wincingly funny take on one office innocent's workplace coming-of-age. Brian "Pulpy" Lembeck is the new hero of the keyboard-and-cubicle set.' –- Lynn Coady, author of Mean Boy