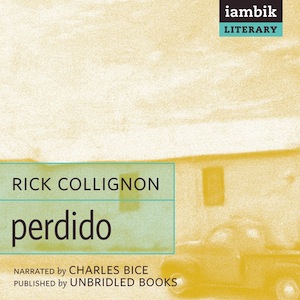 Perdido
Narrator:




Publisher:




Proof-listener:

Linette Geisel



Length:

5:17:26



File Size:

~ 280 MB



Share:

Sample:
Buy from Audible:
Description
Perdido is the second book of the Guadalupe Series.
Madewell Brown walked into the village on a hot, dry day in 1946. A solitary black man with one arm longer than the other, he had never found a place for himself. Never, that is, until he had painted his own history on the interior walls of his adobe house in Guadalupe.
Fifty years later, Will Sawyer's truck runs out of gas, and as he walks that same long road back into town he knows it's best to keep his eyes on the ground. But he doesn't understand the town's long history of displacement or the difficulty of truly fitting in there, until he hears the story of the dead girl found hanging from Las Manos Bridge.
In Perdido, Collignon returns to the same magical town he first introduced in The Journal of Antonio Montoya. Once again mixing present and past, living and dead, he delivers a forthright and unflinching examination of race, belonging, and identity. With this novel, Collignon shows that a powerful new voice in American fiction has arrived.
First Line
"The nigger came to Guadalupe in the summer of the year 1946," Telesfor Ruiz said.

Reviews
"Mr. Collignon has taken readers back to the village he wrote of in his first novel, The Journal of Antonio Montoya. It is a happy return." -- The Dallas Morning News
"Intriguing. . .Compelling. . .The novel succeeds admirably with its deception of a peaceful way of life abruptly hurled into dangerous havoc by unwanted curiosity. . .Collignon's male characters are masterfully drawn, as is his rendering of the stark New Mexico landscape, with its harsh unforgiving climate." -- The San Diego Union-Tribune
More Metadata!
Iambik Audio ISBN:
9781926673189
Iambik Audio Publication Date:
Apr 13, 2011
Print ISBN:
9780380732203
Print Publication Date:
Feb 1, 1999
Audio Distribution Rights:
Worldwide
Keywords/tags:
cultural identity
,
Guadalupe
,
Hispanic-American culture
,
literary
,
magical realism
,
mystery
,
New Mexico
,
outsiders
,
secrets
,
small town