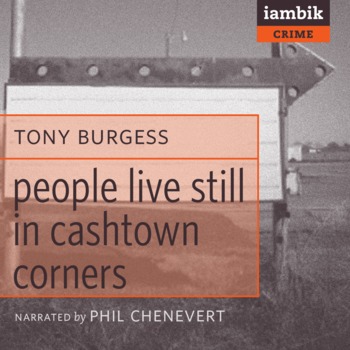 People Live Still in Cashtown Corners
Narrator:




Publisher:




Proof-listener:

Linette Geisel



Length:

3:09:59



File Size:

~ 160 MB



Share:

Sample:
Buy from Audible:
Description
"It is what it is. That's her car out there and, well, that's her right there."
Jeremy looks at the woman again. There's a few flies dipping in and out of the back of her skull.
"What happened to her?"
I feel a little uncomfortable. I wasn't really planning to lay it all out like this.
"Well, I hate to say this but I killed her."
Jeremy nods slowly. He's starting to take this in and I'm relieved.
"Don't ask me why. Anything I say is just gonna sound ridiculous."
I rub my hand in my hair. I want to appear frustrated.
"Things just got out of control."
Bob Clark owns the Self Serve in Cashtown Corners. It's the only business there and Bob is the only resident. He's never been comfortable around other people. Until he starts to kill them. And murder, Bob soon discovers, is magic.
People Live Still in Cashtown Corners is Bob's account of a tragedy we all thought was senseless.
First Line
There is a point at which you find yourself, where, and this is not just what I think but this is the way we are designed to think and it's this: if the entire universe, and I mean every corner of every atomized corner of infinity; if everything that is isn't aware of or doesn't understand my most inconsequential, half-formed thoughts, then there is no chance that the highest-formed acts by the noblest mind are greater than gross self-love.

Reviews
People Still Live in Cashtown Corners is the product of a literary mind that regularly licks at 12 volt batteries charged with pure insanity. –Aaron Allen, Horror in the Hammer.
After finishing People Live Still in Cashtown Corners, you won't know whether to applaud Burgess' impressively large literary cohones or arrange to have him committed to the nearest mental health facility. –Paul Goat Allen, Barnes & Noble Community Blog.
Bob Clark . . . is clearly unhinged. Yet it is his voice, with its plain-spoken common sense, that draws us into the story and is so convincing that we almost don't question the peculiarity of his perspective. Until the murders begin to multiply, of course . . . a most disturbing read.–Kerry Clare, The Globe and Mail.
More Metadata!
Iambik Audio ISBN:
9781926673943
Iambik Audio Publication Date:
Dec 8, 2011
Print ISBN:
9781926851044
Print Publication Date:
Oct 5, 2010
Audio Distribution Rights:
Worldwide
Keywords/tags:
Crime
,
psychology
,
serial killing
,
true crime