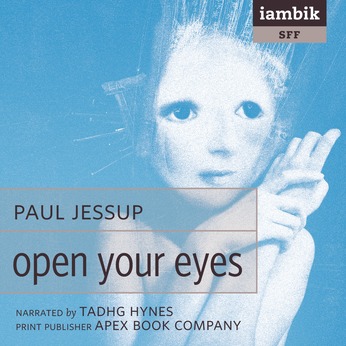 Open Your Eyes
Narrator:




Publisher:




Proof-listener:

Elizabeth Medeiros



Length:

3:23:08



File Size:

~ 180 MB



Share:

Sample:
Buy from Audible:
Description
Her lover was a supernova who took worlds with him when he died, and as a new world grows within Ekhi, savage lives rage and love on a small ship in the outer reaches of space. A ship with an agenda of its own.
Critically acclaimed author of weird fiction Paul Jessup sends puppets to speak and fight for their masters while a linguistic virus eats through the minds of a group of scavengers in Open Your Eyes, a surrealist space opera of haunting beauty and infinite darkness.
First Line
Her lover was a supernova. She smiled when he came, his bright burning light rocking her body, impregnating her with the essence of stars.

Reviews
"Open Your Eyes is surrealistic space opera in the tradition of New Wave experimentalism, echoing the fantastic imagery of Samuel R. Delany and the angst-ridden identity paranoia of Philip K. Dick, all bound together in a distinctly modern vision of a post-technological future bereft of a human core. Jessup's bone spaceships and resurrecting crews tumble into the core of a mystery which is consuming the very hearts of suns. Go along for the ride, and open your eyes." —Jay Lake, author of Escapement and Green
"With unique imagination at work, Open Your Eyes bombards the reader with stunning imagery, from living spaceships to mechanical butterflies." —Ekaterina Sedia, author of Alchemy of Stone and The Secret History of Moscow
Evocative, moving, elegiac, and sometimes surreal, Jessup's Open Your Eyes is a space opera novella that lives and breathes in the 21st century. It blends together the best of fast-paced adventure and intriguing characters. Open Your Eyes is truly a nova in the science fiction universe. —Alan DeNiro, author of Skinny Dipping in the Lake of the Dead