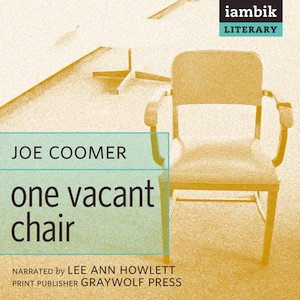 One Vacant Chair
Narrator:




Publisher:




Proof-listener:

Betsie Bush



Length:

10:27:05



File Size:

~ 550 MB



Share:

Sample:
Buy from Audible:
Description
It's where you sit down that determines everything in life.
One Vacant Chair is a hilarious and gripping novel by New York Times Notable Book of the Year author Joe Coomer, whom the Washington Times calls "a marvelously creative comic writer."
As the owner of several antique stores in Texas, Joe Coomer has an affinity for old chairs. So much so that the main character of his latest novel, Aunt Edna, paints portraits of them. Not people in chairs, just chairs. At the funeral of Grandma Hutton—whom Edna has cared for through an agonizingly long and vague illness—Sarah begins helping her aunt clean up the last of a life. This includes honoring Grandma's wish to have her ashes scattered in Scotland—although she had never left the state of Texas.
"We were two fat women, eighteen years apart, a chair artist and a designer of Christmas ornaments, who only knew we had troubles and a hot summer to get through," says Sarah. But as it turns out, there is a great deal more to her quirky aunt's troubles than Sarah could possibly imagine. As the novel turns from the oppressive heat of Texas to the cool, misty beauty of Scotland, she learns of her Aunt Edna's remarkable secret life and comes to fully understand the fragile business of living and even dying.
Cover image adapted from a photo by Marya @emdot.
First Line
Perhaps our lives are sustained by a suspense of dying.

Reviews
"Joe Coomer's characters in One Vacant Chair, especially the women, are those friends you've been waiting to meet, and he delivers them with his characteristic delectable language, rich in metaphors and dialect. I savored this novel and can't wait to recommend it to our book clubs!" —Cheryl McKeon, Third Place Books, Book Sense 76 Recommendation
"Joe Coomer introduces his characters one by one, each so finely drawn it's like meeting them in person. Try reading two pages without a chuckle, and I guarantee you'll be the first to make it." —The Sanford Herald
In his fifth novel, Coomer (Apologizing to Dogs, 1999) displays his unique comic voice while returning to his favorite theme of personal regeneration. Sarah has come home to Fort Worth, Texas, to bury her grandmother, who took to her deathbed some 22 years earlier, plagued by a series of mysterious illnesses and waited on hand and foot by her daughter, Edna. Sarah, a designer of Christmas ornaments, and Edna, a painter of enigmatic portraits of chairs, decide to go together to Scotland to fulfill the dead woman's request to have her ashes scattered there. Among the secrets revealed during the long, hot summer are Edna's love for a blind, black neighbor who repairs chairs and whose colorful turns of phrase would give Dan Rather pause and Edna's longtime habit of pilfering silver coins from the school cafeteria where she works, a habit that will pay for their trip and then some. This novel's wide sentimental streak is offset by a peppery humor delivered by a most endearing cast of characters. A wonderful read. --Booklist