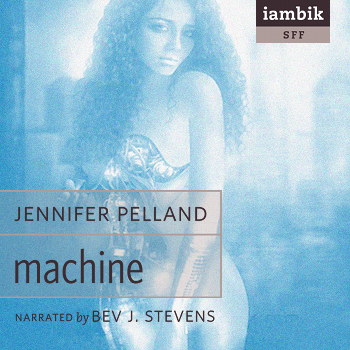 Machine
Narrator:




Publisher:




Proof-listener:

Linda Andrus



Length:

11:26:45



File Size:

~ 950 MB



Share:

Sample:
Buy from Audible:
Description
Celia's body is not her own, but even her conscious mind can barely tell the difference. Living on the cutting edge of biomechanical science was supposed to allow her to lead a normal life in a near-perfect copy of her physical self while awaiting a cure for a rare and deadly genetic disorder.
But a bioiandroid isn't a real person. Not according to the protesters outside Celia's house, her coworkers, or even her wife. Not according to her own evolving view of herself. As she begins to strip away the human affectations and inhibitions programmed into her new body, the chasm between the warm pains of flesh-and-blood life and the chilly comfort of the machine begins to deepen. Love, passion, reality, and memory war within Celia's body until she must decide whether to betray old friends or new ones in the choice between human and machine.
First Line
When Celia opened her eyes, Rivka wasn't there.

Reviews
This is a very gritty, very creepy, extremely insightful book.
Is the self in the mind, in the soul, in the body, or in all of the above? Is a constructed body that is virtually identical to the original a place where the human psyche can feel at home?
Celia is inhabiting an android body that is virtually indistinguishable from the one in medical stasis, but while this seems like a perfect solution to the problem of deadly or debilitating diseases, as Celia discovers there are parts of society and the human psyche that cannot handle the difference.
This book handles the topics of dysmorphia and the tendency of us to think of our minds and bodies as separate entities so deftly that even though we are not living in the world Celia does, her turmoil feels very real.
An outstanding work that is very thought provoking, but not for the faint at heart. - Amazon user review.
Intensely provocative and deeply disturbing, Pelland's Machine is simply an unforgettable – and potentially nightmare-inducing – read. In a word: twisted. - Paul Goat Allen.
Machine is a solid novel that marries both lofty ideas and gritty human drama in unexpected ways. Look past the cover. - Adrienne Martini, Locus Online.
"Science fiction, at its very best, fearlessly challenges readers and compels them to look at the world around them in a different light – and that is exactly what Jennifer Pelland's brilliant debut novel Machine does in grand style." — B&N Bookclub
More Metadata!
Iambik Audio ISBN:
9781927472255
Iambik Audio Publication Date:
Jan 22, 2013
Print ISBN:
9781937009137
Print Publication Date:
Jan 9, 2012
Audio Distribution Rights:
Worldwide
Keywords/tags:
androids
,
bioethics
,
future
,
identity
,
medicine
,
politics
,
relationships
,
sexuality
,
society
,
technology