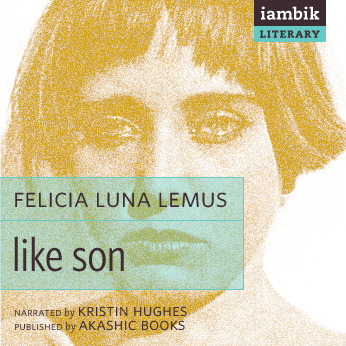 Like Son
Narrator:




Publisher:




Proof-listener:

Mary McCullough



Length:

7:40:27



File Size:

400 MB



Share:

Sample:
Buy from Audible:
Description
Set amidst the outsider worlds of present-day downtown New York, 1990s Los Angeles, and 1940s Mexico City, Like Son is the not-so-simple story of a father, a son, and the love-blindness shared between them.
Meet Frank Cruz: a post-punk, sardonic, thirty-year-old who unwittingly inherits his dead father's legacy. Born a bouncing baby girl named Francisca to parents tangled in a doomed love affair, Frank grows up in both the poorest barrios and poshest hills of Southern California. A defiant loner, Frank leaves home at the age of eighteen for the big city, but instead is sucked back into helping his estranged and blind father navigate an untimely death. On his deathbed, Frank's father gives him a mysterious crumbling photograph of a woman with a stunning gaze: Nahui Olin, a fierce member of the early-20th-century Mexican avant-garde who once brought tragedy upon the Cruz family.
Punctured to his core by Nahui, Frank takes her portrait and flees to New York City to start anew–this time for real. There he meets eccentric, gorgeous, and sharp-tongued Nathalie. The two fall in love, but after seven years of happy-go-lucky life together, in September 2001 the New York skyline tumbles, and Frank finds himself smack in the middle of his predestined fate.
First Line
All things considered, the flight home was uneventful.

Reviews
"Felicia Luna Lemus's fresh yet plain-spoken prose roots us in today's sad and sweeping chaos, as hope, love, and wild myth propel her unique characters into an unknown future. Like Son is a sweet song of a story." --Michelle Tea, author of Rose of No Man's Land
"Like Son moves on the wings of a soulful, visceral kind of androgeny. Old men, young men, hot girls--all step forward and sing from their stuttering hearts. Like Son is one terrific read." --Eileen Myles, author of Cool for You
"Like Son is revelatory: a truly original exploration of the complex relationships that shape a wonderfully complicated protaganist. This is intimate storytelling of the best kind." --Joe Meno, author of Hairstyles of the Damned
More Metadata!
Iambik Audio ISBN:
9781926673059
Iambik Audio Publication Date:
Oct 19, 2010
Print ISBN:
9781933354217
Print Publication Date:
Apr 1, 2008
Audio Distribution Rights:
Worldwide
Keywords/tags:
fate
,
freedom
,
identity
,
legacy
,
non-traditional
,
obsession
,
personal growth
,
psychology
,
relationship
,
transgender