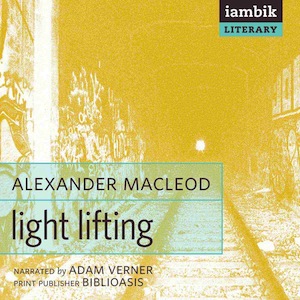 Light Lifting
Narrator:




Publisher:




Proof-listener:

Mary McCullough



Length:

7:15:21



File Size:

~ 380 MB



Share:

Sample:
Buy from Audible:
Description
Two long-distance runners race a cargo train through the darkness of a rat-infested tunnel beneath the Detroit River. A drug store bicycle courier crosses a forbidden threshold in an attempt to save a life and a young swimmer conquers her fear of water only to discover she's caught in far more dangerous currents. An autoworker who loses his family in a car accident tries to separate his life from the internal combustion engine forever.
Light Lifting, Alexander MacLeod's long-awaited first collection of short stories, offers us a suite of darkly urban and unflinching elegies for a city and community on the brink. These are stories of work and its bonds, of tragedy and tragedy barely averted, but also of love and beauty and fragile understanding.
Cover image adapted from a photo by jrschau.
First Line
This was the day after Mike Tyson bit off Evander Holyfield's ear.

Reviews
"Rarely does fiction inhabit the body – the moving, athletic body – as fully as in Alexander MacLeod's debut story collection. Whether describing what it is to run track, to swim against a current, to build cars or to haul bricks, MacLeod brings into vivid concrete language the physical experiences that mark us as profoundly as any thought. His stories are a careful marriage of the lyric and the narrative: each unfolds around a resonant, ineffable moment, replete with history and emotion, a Gordian knot comprised of all the strands that lead up to and away from it. Sensitive and subtle, MacLeod is a writer through whose deliberately partial and quotidian pieces shimmers life's unspoken complexity." --Giller Citation
"Alexander MacLeod's work is brash and brainy and his voice is rich, harsh, and powerful. He pays attention to the battles of the sexes, the battles of strip mall and rest stop, the battles of the bottle, and the battles of child rearing, uncannily detailing the stresses and obligations and joys in tactile, loving observations." —Mark Anthony Jarman
"What makes Light Lifting an impressive collection is its variety. I thought I had MacLeod nailed as an explorer of gritty masculinity and adrenalin-fuelled anger. But he can also be surpassingly delicate." -– The National Post
More Metadata!
Iambik Audio ISBN:
9781926673356
Iambik Audio Publication Date:
Apr 13, 2011
Print ISBN:
9781897231944
Print Publication Date:
Sep 15, 2010
Audio Distribution Rights:
Worldwide
Keywords/tags:
blue collar
,
coming-of-age
,
Detroit
,
growing old
,
lice
,
parenting
,
running
,
swimming
,
working