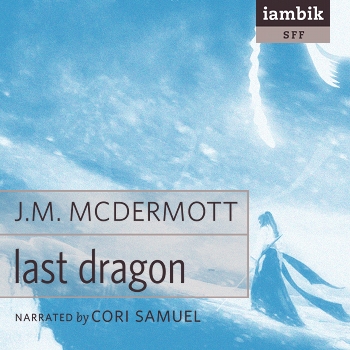 Last Dragon
Narrator:




Publisher:




Proof-listener:

Mary McCullough



Length:

9:32:58



File Size:

~ 440 MB



Share:

Sample:
Buy from Audible:
Description
An intricate web of stories weave together to tell a tale of revenge, justice, ambition, and power. Zhan has been sent to find her grandfather, a man accused of killing not only Zhan's family, but every man, woman, and child in their village. What she finds is a shell of a man, and a web of deceit that will test the very foundations of a world she thought she understood.
A tale of revenge that grows into something more, Last Dragon is a literary fantasy novel in the tradition of Gene Wolf and Gabriel Garcia Marquez. J.M. McDermott brings the fantasy genre to new literary heights with a remarkable first novel that reconstructs what you expect from an epic tale.
First Line
My fingers are like spiders drifting over memories in my webbed brain. The husks of the dead gaze up at me, and my teeth sink in and I speak their ghosts.

Reviews
"Its call for our participation in assembling a story from the novel's brief fragments and long silences reminds us why we read, makes plain the interactivity that is at the heart of reading's entertainment. Last Dragon literalizes our impulse to Story, to construct narratives out of our memories and circumstances" –BSC Book Reviews, Matt Denault
"A journey focused on revenge becomes an odyssey of self-discovery and of the founding of an empire in blood and sacrifice. As Zhan searches for her grandfather, a creature no longer human that has killed his entire village, she travels in the company of Seth, a fire-breathing shaman; Korinyes, a gypsy who is more than she seems; and Adel, a paladin present at the slaying of the last dragon. McDermott's debut novel requires careful reading to piece together a story told in nonlinear form, as mercurial as memories and as visceral as death. This fantasy adventure belongs in libraries where literary fantasy in the tradition of Gene Wolf, A.A. Attanasio, and Gabriel García Márquez is popular." –Library Journal, Jackie Cassada
More Metadata!
Iambik Audio ISBN:
9781927472095
Iambik Audio Publication Date:
Apr 23, 2012
Print ISBN:
9780984553556
Print Publication Date:
Jan 30, 2011
Audio Distribution Rights:
Worldwide
Keywords/tags:
dragon
,
empire
,
fantasy
,
golem
,
gritty
,
justice
,
non-linear
,
paladin
,
power
,
revenge
,
science-fiction
,
scifi