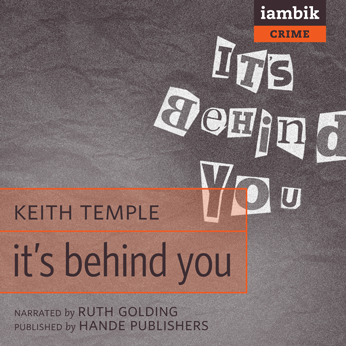 It's Behind You
Narrator:




Publisher:




Proof-listener:

Mary McCullough



Length:

13:56:40



File Size:

380 MB



Share:

Sample:
Buy from Audible:
Description
A story about fame, megalomania and murder.
Carina Hemsley, former soap star of 'Winkle Bay' was a hugely popular actress in her day – until her ego took over and 'Cora Smart', her character, was axed off.
Now, after years away from the lime-light, she's appearing as the Good Fairy in panto, terrorising the cast and crew of a tatty third-rate northern theatre and drinking and smoking herself to death. Audiences are down and the outlook isn't good… until she starts receiving death threats in the post. Along with the police, the media circus descends, boosting her public profile and putting bums on seats in the theatre.
Follow Carina and her not-so-merry troupers as they face an onslaught of assassination, romance and intrigue, but as Carina says, 'The Show Must Go On!'
First Line
A tide of grimy water sloshed from a kerbside puddle onto the pavement as the black and white mini-cab slowed to a halt in front of the equally grimy 'Olde Tyne Theatre'.

Reviews
"A scriptwriter of long standing for shows such as "Eastenders" and "Doc Martin", Keith Temple has obviously had great fun writing about a world he knows well in his debut novel. Carina, in particular, is a myopic monster of a woman, variously flattering, denigrating and even outright abusing anyone she comes across (depending on how useful or otherwise they are to helping her achieve her sole aim of returning to the spotlight). The question is always there of which real life soap matriarch she might be based upon." - Read More