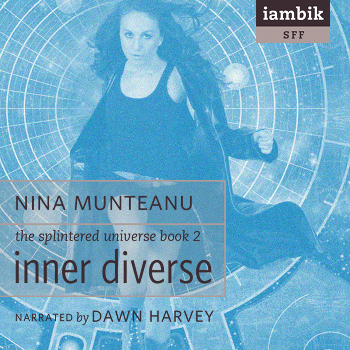 Inner Diverse (Splintered Universe Book 2)
Narrator:




Publisher:




Proof-listener:

Susan Dunman



Length:

12:35:07



Share:

Sample:
Buy from Audible:
Description
This is Book 2 of the Splintered Universe series. This metaphysical thriller trilogy started with Outer Diverse.
Detective Rhea Hawke continues her quest for truth and justice in a world that is not what it seems.
Rhea's search takes her to the far reaches of the known universe from the Weeping Mountains of Horus to the blistering deserts of Upsilon 3. Amidst the turmoil of an imminent extra-galactic war, Rhea holds the key even as those she trusts betray her. No one is what they seem…
Original background cover image by Costi Gurgu.
First Line
I pulled out a second wad of soyka gum and chewed nervously then resumed paddling, eyes sharp for any boiling masses of water snakes.

Reviews
"Nina Munteanu is not only a master of metaphor, she is a creator of fantastic worlds and cultures. She combines her biological background with the infinite possibilities of the cosmos and turns an adventure story into a wonderland of alien rabbit holes. When the action starts it goes into hyper-drive, and her protagonist, Rhea Hawke, is a fresh and multi-faceted heroine.   A fascinating and enthralling read." — Craig H. Bowlsby, author of Horth in Killing Reach and creator of Commander's Log.

"Hawke is a maverick in the Wild West tradition, up against the world; and a genetic mystery with lethal powers. As always, Munteanu sticks to science in her storytelling, and clips along a brisk pace."—Lynda Williams, author of the Okal Rel series.

"Nina Munteanu creates a human future on the edge of chaos, and a multiverse that flows back and forth, one universe feeding into another…Munteanu illustrates her love of diverse ecosystems, richly describing complex alien eco-webs. Rich descriptions of biodiversity populate her narrative, making the alien environment feel real, feel close, engage the senses. She evokes in the reader a desire for exploring the miraculous diversity of life…Munteanu's narrative focuses on a woman who identifies as human but discovers that her body contains a richness of diversity, skills beyond human ability and often beyond her control."— Speculating Canada


More Metadata!
Iambik Audio ISBN:
9781927472491
Iambik Audio Publication Date:
Nov 15, 2013
Print ISBN:
9780982378359
Print Publication Date:
Dec 13, 2013
Audio Distribution Rights:
Worldwide
Keywords/tags:
aliens
,
gnostic
,
inner-space
,
mec
,
metaverse
,
rhea hawke
,
science fiction
,
serge bastion
,
vos